Emma Roberts Says She Took Her Infertility Issues Personally
She felt she had "done something wrong" after being dismissed by her doctor.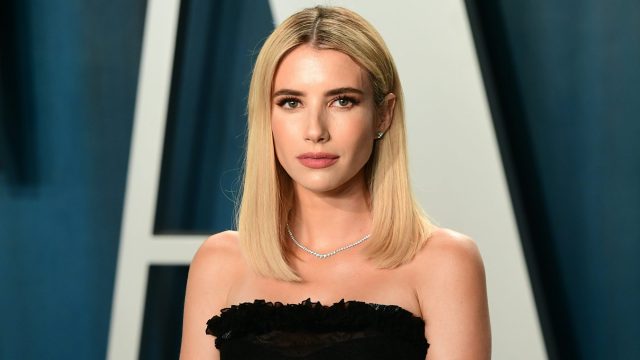 Serving as Cosmopolitan's first-ever pregnant cover star, Emma Roberts opened up to the magazine about her journey to pregnancy—including why she felt that doctors brushed off her endometriosis paint and her fertility concerns—sharing that she felt like she'd "done something wrong" that might impact her ability to have a baby someday.
Roberts shared that she suffered from "undiagnosed endometriosis" when was a teenager, which caused debilitating cramps and periods. She explained that when she talked with her doctor, he "didn't look into it and sent me on my way because maybe I was being dramatic?" Eventually, in her late twenties, she switched to a female doctor, calling it "the best decision."
"She ran tests, sent me to a specialist. Finally, there was validation that I wasn't being dramatic, Roberts told the publication. But by then, it had affected my fertility. I was told, 'You should probably freeze your eggs or look into other options.'"
Though Roberts did end up freezing her eggs, she said she was "terrified" at "the thought of going through that and finding out, perhaps, that I wouldn't be able to have kids…." She added, "When I found out about my fertility, I was kind of stunned. It felt so permanent, and oddly, I felt like I had done something wrong."
In speaking with other endometriosis sufferers, Roberts discovered a "new world of conversation about endometriosis, infertility, miscarriages, fear of having kids. I was so grateful to find out I was not alone in this. I hadn't done anything 'wrong' after all."
Even after she became pregnant, she didn't want to get her hopes up about being able to carry to full term. She said, "Things can go wrong when you're pregnant. That's something you don't see on Instagram."
"I kept it to myself, my family, and my partner, not wanting to make grand plans if it wasn't going to work out, Roberts continued. This pregnancy made me realize that the only plan you can have is that there is no plan."
Of course, Roberts's story will surely ring true for the many women out there who have also felt ignored by doctors in regards to their endometriosis symptoms, a byproduct of the fact that women's health concerns in general are all too often dismissed or downplayed—something that is made exponentially worse due not only to a gender bias in medicine, but also biases against those in other marginalized groups, including women of color, marginalized gender identities, low income patients, and mistreatment due to weight stigma.
Here's hoping that by Roberts sharing her story and being so open, that other women who have gone through or are currently experiencing similar issues might feel a little less alone.