Emma Roberts's Instagram post about Evan Peters' Critics' Choice Award nomination is too adorbs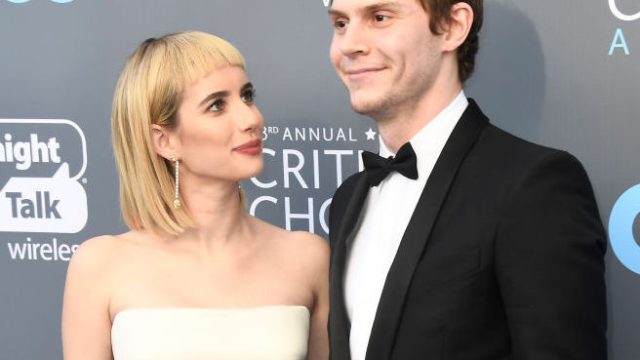 Now this is how you announce your new bangs. For a woman, getting bangs is like, a big effing deal. Before you head to the salon, you need to think about whether or not you want bangs for six months or more. After you've texted everyone you know "should I get bangs?" and done several minutes of bang-induced hand-wringing with your hairstylist — it's finally time to take the plunge and get bangs. So when Emma Roberts debuted her new baby bangs at the 2018 Critics' Choice Awards, her accomplishment deserved just as much fanfare as her boyfriend Evan Peters' actual Critics' Choice nomination.
"He got nominated. I got bangs," Roberts wrote in an Instagram post under a photo of her and bae at the awards show.
Peters was nominated for Best Actor in a Movie Made for TV or Limited Series for his work in American Horror Story: Cult, though the award ended up going to Ewan McGregor for Fargo. (For the record, we think Peters should get more acclaim for reinventing himself year after year in each incarnation of AHS that he appears in.)
As for Roberts, her stylist called the bangs "not a look we typically do." Yeah, the bangs are bold. The forehead-grazing bang is rare, but Roberts rocks the hell out of it. Emma Watson has similar baby bangs at the moment as well.
https://www.instagram.com/p/Bd1bUSalsgW
We love Roberts and Peters — they are kind of a millennial power couple, after all — and we like that Roberts turned her +1 duties into an adorable moment to ~announce~ her new hair.