Would you try out Emma Roberts' super casual heels-and-socks look?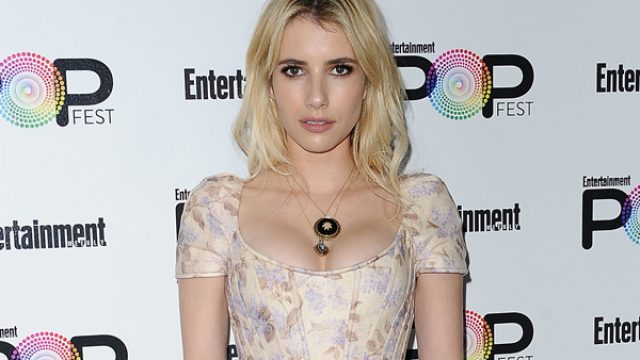 Calling all fashionistas! Emma Roberts' casual heels-and-socks look is something you might want to try in the new year. The 25-year-old actress is a total fashion guru and although this look is a little out there we're totally into it.
On Saturday, the Scream Queens star stepped out in Los Angeles and rocked a casual heels-and-socks combo that we can't get over.
"📚🕴🏻," Roberts captioned her casual wardrobe photo.
The New York native looked comfy and cool as she looked at the outdoor magazine rack over the weekend. Her all-black ensemble and baseball cap is definitley ideal for a stormy Saturday.
Her pop of fashion flare however, comes from her feet.
https://www.instagram.com/p/BOxYbStg482
Her patriotic socks and shimmer shoes are basically the 4th of July in a foot combo and we're kind of into it.
Sure it's a little strange to wear socks with heels, but there is something about the way that the actress styles it that makes it work. Plus, anything looks cool with big sunnies and a matching black handbag, don't you think?
Whether its on her FOX series as Chanel, or on the street, Roberts is constantly taking fashion risks. Her latest sock-shoe combo is just that…a fashion risk and we love her moxie.
We've seen her rock a crop-top and high-waisted, star embroidered pants while walking her dog.
And she's worn an oversized cheetah-printed fur coats while picking out Christmas trees.
Plus, she's even donned a retro military coat for no real reason and we've loved them all.
The striped socks and high heels combo however, might be Roberts' biggest fashion statement yet!