Emma González tweeted the most perfect Leslie Knope GIF at Michelle Obama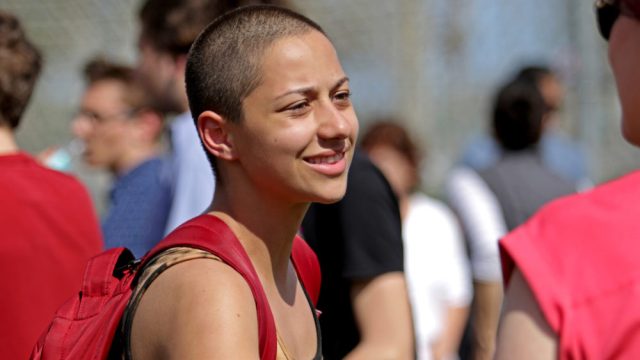 After a school shooter tragically took 17 lives at Parkland, Florida's Marjory Stoneman Douglas High School on February 14th, a group of students has taken charge, demanding gun law reform from Washington lawmakers.
At last night's February 21st CNN town hall meeting, the students confronted regional politicians and NRA spokeswoman Dana Loesch. Like many Americans, former First Lady Michelle Obama was in awe of the students' poise and determination. And Marjory Stoneman senior Emma González tweeted the most perfect Leslie Knope gif in response to Michelle Obama's show of support.
González, her classmates, and parents of affected students, challenged Florida Senator Marco Rubio, who has been decidedly lackluster in his response to the shooting. Later in the evening, González attempted to get a firm response from Loesch regarding the NRA's stance on banning semiautomatic weapons and bump stocks.
The town hall meeting was an opportunity for politicians and the NRA to hear and respond to the Marjory Stoneman students. Yet 14-year-old Avery Anger said she left feeling just as unsure about her safety at school as when she arrived.
But as frustrated as the students may be, Michelle Obama reminded them to stay strong and keep fighting.
And González responded to the former first lady in the most perfect way possible.
"I'm in total awe of the extraordinary students in Florida. Like every movement for progress in our history, gun reform will take unyielding courage and endurance. But @barackobama and I believe in you, we're proud of you, and we're behind you every step of the way."
Just like Leslie Knope, we will support the students of Parkland "throughout history until the end of time forever."