Emma González opened up about political activism and having a "breakdown" in a raw NYT op-ed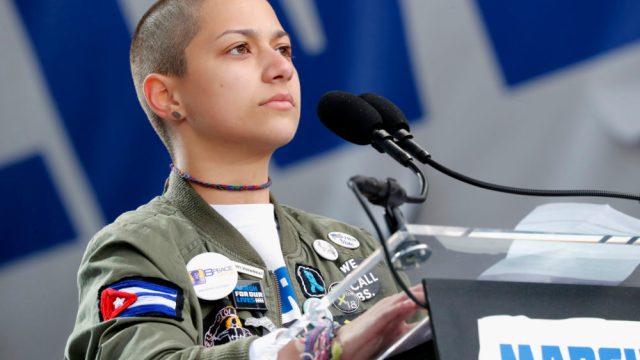 At 18 years old, Emma González is one of the most recognizable gun control activists in America. The recent high school graduate was spurred to action after surviving the February 14th shooting at Marjory Stoneman Douglas High School in Parkland, Florida. And in a new op-ed for The New York Times, she opened up about the aftermath of the tragedy and how it led her to political activism.
González began her piece by remembering what it was like to find out that her friend, Carmen Schentrup, had died in the shooting. She recalled being asked to write a speech for a gun control rally on February 16th, which was the start of her life as an activist. González wrote that after the speech, her friend and peer Cameron Kasky asked her to "join the movement"—which would eventually lead to the March For Our Lives in Washington, D.C.
She recalled throwing herself into planning because "to stop working was to start thinking." Eventually, she wrote that everyone "seemed to have a breakdown," including herself.
"I wanted to go back to when blood hadn't stained the walls of our campus," she wrote. "Back to when I would hang out with Carmen on the bus. Back to before people would stop me to say, 'Aren't you one of those kids from Parkland?'"
"But we couldn't go back," she continued. "All of us know what it feels like to be Harry Potter now. Even when people come up to us quietly to say thank you, you never know if they're just trying to shoot you at close range."
She added that crying has been an outlet for her, and explained that getting involved in politics has helped her heal. The young activist concluded by writing that the shooting continues to affect her every single day.
"This isn't something we are ever going to forget about," she wrote. "This isn't something we are ever going to give up on."
The courage that González and the other Parkland survivors have shown since tragedy rocked their lives is incredible. We are in awe of the work that they have already accomplished, and we will continue to stand with them in their fight for common-sense gun laws.