Emma and Hook took a huge step forward in their relationship on tonight's "Once Upon a Time" and fans are ~flipping out~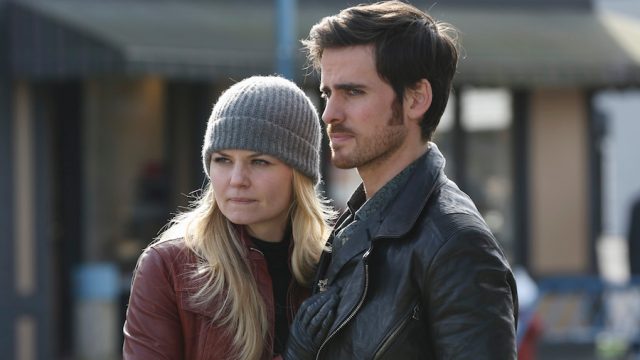 There's so much to love about Once Upon a Time – like the creative retellings of classic stories, the incredible fashion, and the memorable villains and heroes. But perhaps the best part of the series has been the relationships between the core cast. Both the familial relationships – like the one between Henry and his two moms, Regina and Emma – and the many romantic relationships that have attracted huge and passionate fandoms are undoubtedly the heart of the show.
One of the most beloved romances in OUAT fandom (and legit one of the most popular 'ships of any show on Tumblr) is definitely the one between our de facto protagonist, Emma Swan, and her swoonworthy guyliner'd boyfriend Captain Hook (aka, Killian Jones). The two have undeniably electric chemistry and their love story was basically a ~master class~ in slow-burn romance. (Can we talk about that first kiss back in Season 3, though?).
The 'ship (dubbed "Captain Swan" by fans) wasn't the first romantic relationship that Emma was in, but it was by far the most popular relationship for her. After three seasons of intense build-up and drama (including Hook literally dying twice), Emma and Killian are finally at a solid, stable place in their love story – and they took a huge step forward on tonight's episode.
Emma and Hook decided to move in together at the end of "The Other Shoe," and it was a beyond perfect and immediately iconic moment in the couple's story.
The super sweet moment followed some serious soul searching on Emma's part. As she admitted during her chat with Archie the cricket-therapist, Emma did want to move in with Hook (and had for a while) but felt badly doing so when she knew (and he didn't) that she was set to die in battle soon. Which, yeah, is kind of a super bummer.
But by the hour's end, she'd taken Archie's "carpe diem" advice to heart, and Emma was actually the one to take the initiative and ask Hook to move in with her.
To put it mildly: Captain Swan fans on Twitter are super duper excited about it, uniting to hand-flail about this *amazing* development for their beloved pair under the hashtag #MoveInWithMe.
false
Some fans are already giddily anticipating the next big step in the Captain Swan relationship.
A Captain Swan marriage proposal? Um, sign us up!
Basically, this episode couldn't have possibly gone better for Hook and Emma. Here's hoping that Emma's dire fate can be avoided and these two can finally enjoy an *actual* happy ending.