These are the best memes about Eminem's very random Oscars performance of "Lose Yourself"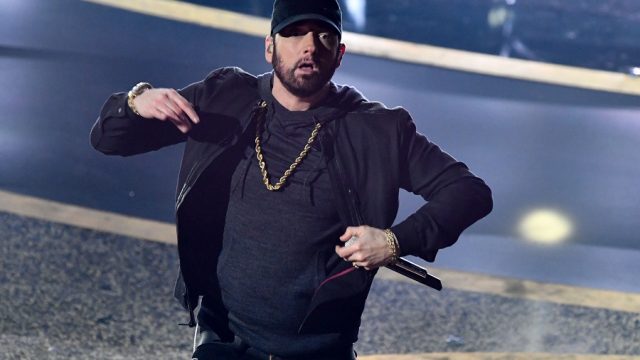 It's been 17 years since Eminem took home an Academy Award for his song "Lose Yourself" from 8 Mile. So, yes, we're all a little confused as to why he appeared for a surprise performance of the song at the 2020 Oscars. If you were stunned from the vantage point of your couch at home, you weren't alone. The camera caught a whole bunch of celebrities also trying to make heads or tails of Eminem's Oscars performance, and it gave us some of the greatest memes of the awards show so far.
Lin-Manuel Miranda introduced a montage of famous musical moments from movies, ranging from "Tiny Dancer" of Almost Famous to "Don't You (Forget About Me)" of The Breakfast Club to many more. But it was a line from Deliverance that should have prepared us all for the surprise Eminem performance: "Sometimes you have to lose yourself before you can find anything," Burt Reynolds said in the video montage. As we started to see Eminem's character from 8 Mile walk out onto the stage on screen, the man himself appeared IRL.
He began singing "Lose Yourself," and Twitter began its barrage of reaction memes.
Frozen 2 Best Original Song nominee Idina Menzel may have bested her "Adele Dazeem" Oscars meme with this reaction face. false
At least Menzel was nodding along to the song. Martin Scorsese? He was nodding off.
And though it wasn't Billie Eilish's first confused face of the 2020 Oscars (that was during Maya Rudolph and Kristen Wiig's presenting bit), it was meme-worthy nonetheless.
https://twitter.com/udfredirect/status/1226695676425363456
We agree. We'd watch Menzel, Scorsese, and Eilish together in any movie or TV show. Take note, every producer at the 2020 Oscars right now.