Eminem admitted that he looks for dates on Tinder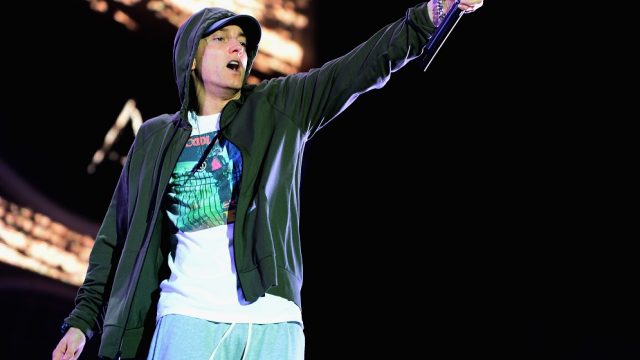 When it comes to forming new relationships, stars are just like us. For example, Eminem admitted that he uses Tinder to find dates. Unfortunately, he also admitted that he's not very successful.
Just a few days ago, the rapper released Revival, his ninth studio album on a label and his latest since 2013's The Marshall Mathers LP 2. Rapping since the late '90s, Eminem became a household name after releasing his single "My Name Is," so we're happy that he's still making music — even though his life is much different now than it was back then.
Eminem — also known by his birth name, Marshall Mathers — was married twice. And both marriages were to the same woman, Kimberly Scott Mathers. The two reportedly started their romance in 1987, back when they were teenagers. In 1995, their daughter Hailie was born. Fans got to know both Kimberly and Hailie, as they've often been key parts of the rapper's lyrics. Mathers and his ex got married for the first time in 1999, and again in 2006 — but that same year, they decided to end it for good.
Since then? Mathers has been somewhat of a lone wolf. But he seems to be a pretty attentive father to both Hailie, who's now in her 20's, and his two other daughters whom he adopted.
In an interview set up by Vulture, he addressed the fact that a lot of Eminem songs come off as a little misogynistic. But he made sure to admit that he's familiar with being stereotyped as such, adding that "a lot of times I'm saying stuff just to get that reaction." (Phew.)
So how does he really actually relate with women?
"Since my divorce I've had a few dates and nothing's panned out in a way that I wanted to make it public," he said to Vulture. "Dating's just not where I'm at lately."
Mathers said that he met women through Tinder, "and Grindr," and also admitted that he "used to go to strip clubs" to meet new people.
Yet at the end of the day, Mathers is totally fine being by himself.
"Am I lonely? No, I'm good," he said. "Thanks for asking, though.
So if you've been telling friends that you think you accidentally may have swiped right on Eminem, there's a good chance it wasn't a lookalike.