This fitness star shares how much happier she's becoming since gaining weight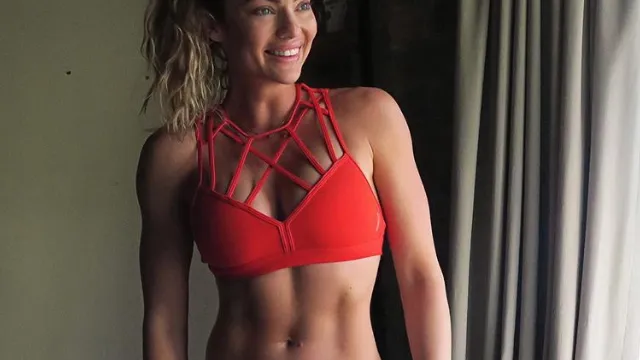 Throughout the years, most of the fitness "progress pics" we've seen on social media have featured weight loss, which can be very cool and inspiring for people trying to get healthy. But in recent years, what we've really been excited to see is people showing off their weight gain — like this fitness guru just did on Instagram.
Emily Skye has been #fitnessgoals for a while. Just last month, Skye shared 30-second exercises you can do anywhere with the TODAY team. And, in September, she debuted her fall fitness workout plan featuring a custom routine for each day of the week.
Now, she's inspiring us even more with her strong body transformation.
"This is before I started strength training," Skye wrote about the picture on the left.
At the time, she weighed only 104 pounds.
"I was only doing cardio & I was obsessed with being as skinny as I could be. I was starving myself & was really unhealthy & unhappy. I suffered depression & had terrible body image."
She's since upped her workout game and is now proudly boasting an almost 30-pound weight gain, bringing her up to 132 pounds.
"I now weigh 13kg more, I lift heavy weights & do a little bit of HIIT. I don't do ANY long cardio sessions & I eat more than I've ever eaten in my life. I'm also happier, healthier, stronger & fitter than I have ever been. I no longer obsess over the way I look. I eat & train to feel my best, for overall 'health' & longevity. I LOVE having muscle & I feel more confident than ever."
Skye went on to talk about the changes she made in her exercise regimen. She gained confidence and strength, as well as ditched people who didn't support her fitness journey.
"I had friends at the time telling me I wasn't healthy & was taking it 'too far'...I couldn't believe that the people who were supposed to love me weren't happy for me even though I was obviously much happier & healthier than I'd ever been."
She added:
"Luckily I decided not to listen to their put downs and kept going with my new healthy lifestyle & here I am today the best I've ever been."
Her F.I.T. Programs are founded on principals of strength training and HIIT (high-intensity interval training) and focus on overall health rather than checking the scale and dropping lbs. Check it out here and read about Skye's philosophies on nutrition, mindset, and exercise.
Nutrition
Mindset
Exercise
When it comes to being your best and healthiest self — physically and mentally — Skye seems to have discovered the secret.
Keep up the awesome work, Skye! And we'll keep trying to follow in your footsteps.