Emily Blunt fooled a bunch of people into thinking a "Friends" reunion was happening
When you live and work in New York City, you get pretty used to seeing filming crews on the streets at all hours of the day — many big name TV shows and movies use New York's bustling streets and fast-moving inhabitants as their backdrop, and most people are generally used to the commotion.
But Emily Blunt inadvertently gave a few hundred New Yorkers a heart attack when she was filming The Girl on the Train in one of the busiest railroad terminals in the world, all thanks to Lisa Kudrow.
Lisa plays a friend of Emily's character, Rachel, in the movie adaptation of the hit murder mystery novel, and her character was originally going to be named Monica. Emily stopped by The Tonight Show Starring Jimmy Fallon and detailed the unintentional hysteria that ensued when Lisa Kudrow arrived on set and announcements for Monica and Rachel flooded the loudspeakers.
"So Lisa Kudrow plays this friend of mine, and we were shooting in Grand Central Station ... Her character's name is Monica and my character's name is Rachel. And so we had about 300 extras and then we had actual commuters coming into Grand Central who heard on the loud speaker, 'OK, guys, we're going to roll on Rachel.' And then they see Lisa Kudrow walking on, and then they hear, 'Guys, we're going to do a closeup on Monica.'"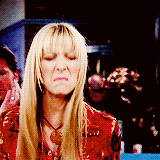 Emily adds, "I saw two people have an aneurysm. They were like 'IS THIS FRIENDS? THE FRIENDS REUNION!' And it was like, it was so exciting. Then they were disappointed. We had to change her [Monica's] name to Martha instead."
Unfortunately for Friends fans both in and outside of Grand Central Terminal, it seems like a Friends reunion still isn't going to happen. But we can dare to dream, can't we?
Check out the hilarious clip below.