Emily Blunt covered songs by Katy Perry and Adele in this epic "Romeo and Juliet" pop musical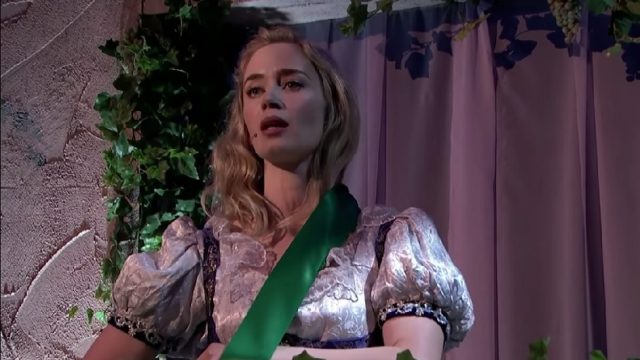 We love when we get the chance to watch our favorite actresses sing! And with a little help from James Corden, Emily Blunt got to sing pop songs by artists like Katy Perry and Adele in a fun little sketch for The Late Late Show.
The pair decided to sing the songs as a Romeo and Juliet musical. So, based on the soundtrack, we're definitely guessing it was inspired a little more by the Leonardo DiCaprio version, and not so much on the original that Shakespeare wrote up.
The performance took place during Corden's last night filming in London. Of course, Corden played Romeo while Blunt took on the role of Juliet.
https://www.youtube.com/watch?v=H1obijnKoIQ?feature=oembed
Aside from Katy and Adele, the pair added songs by Whitney Houston, Ludacris, Britney Spears, and yes — even Chumbawamba. All in all, the duo sang 14 songs in less than seven minutes. Impressive? Oh, you bet.
 It's not like we needed proof that Blunt was a versatile performer, but being able to switch genres (and scenes) so quickly is a skill that not many have. The two definitely told the classic story in a way that everyone can appreciate. This video should be required viewing for high school English students worldwide!
Blunt was in England working on the much-anticipated Mary Poppins Returns, which will be out in theaters at the end of 2018. We're so glad she was able to take a break from filming to put on such an incredible performance.