Emily Blunt Shared a Rare Update About Her and John Krasinski's Daughters
Blunt called Hazel and Violet "a pretty great lifeline" during quarantine.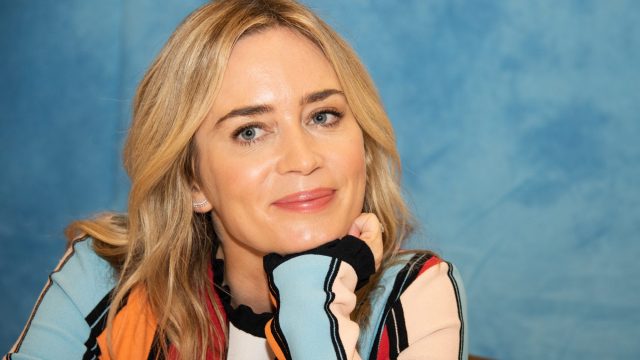 Emily Blunt and husband John Krasinski are in the same boat as celeb parents like Kristen Bell and Dax Shepard, Leighton Meester and Adam Brody, and Mila Kunis and Ashton Kutcher—they want their kids' lives to be lived away from the public eye. But, Blunt opened up to People magazine about her daughters Hazel, 6, and Violet, 4, and how they've been a true "saving grace" to herself and Krasinski during the coronavirus (COVID-19)-caused quarantine.
"Being around little ones during the pandemic was such a saving grace because they would just be bouncing around the house, and your job is to protect them from what is happening and make sure their life remains joyful," she said. "That was a pretty great lifeline for John and me during the pandemic, for sure."
In both parenting and their careers, Blunt and Krasinski are on the same page. Having John's support is everything, because we are each other's confidant, she told People. That shared understanding has really been a very vital anchor for me.
In 2014, when Hazel was born, Krasinski let fans and media outlets know right off the bat that pictures of their kids are off limits. "Pics of kids should only come direct from parents," he tweeted. "So I'm thrilled to introduce you guys to Hazel!!!" adding the hashtag #NoKidsPolicy.
Since that post, neither Krasinski nor Blunt, who has kept off social media, have shared any photos of their daughters, and rarely even speak to media outlets about them.
But, when Blunt and Krasinski do decide to share a quip about their girls, the stories are always a delight. In 2016, Blunt said that Hazel was developing her father's American accent after having her mother's British accent for the first short bit of her talking life. Blunt told Tonight Show host Jimmy Fallon, "Hazel had my accent for a really long time and would say things like [in a British accent] 'water,' which I was really proud of. And then the other day she goes [in a whiny American accent], 'Can I have some water?' I was like, 'Nooo!'"
While keeping their kids life joyful, it appears the joy rubbed off on Blunt and Krasinski, too. And in the dumpster fire year that is 2020, that's definitely not a bad thing.