Emily Blunt just admitted something super embarrassing about her role in "Girl on the Train"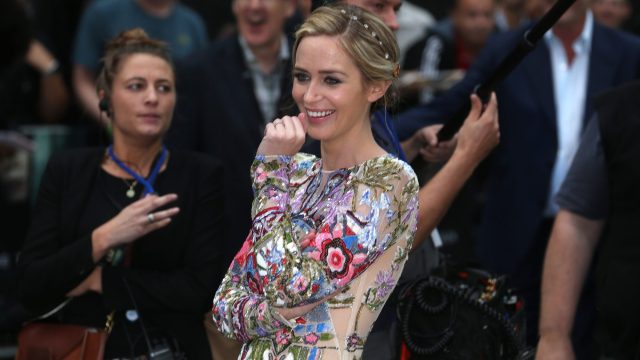 The film adaptation of The Girl on the Train is one of the most hotly anticipated films of the year. The novel is a thriller of the can't-put-it-down variety, one that broke sales records and had fans of Gone Girl ecstatic to find another page-turner just as absorbing.When we found out Emily Blunt would be starring in the film adaptation, we cheered (to be fair, news of Emily Blunt starring in most things would make us cheer).
Fans of her work and the book were excited for the match...but little did we know, Blunt herself was keeping a slightly embarrassing secret under wraps.
While chatting with The Jonathan Ross Show, Blunt admitted that she hadn't read the bestseller when she signed up to play the titular character in the novel's adaptation.
"I think because I saw everyone reading it, I was trying to be contrary and say, 'Well I'm not going to read it if everyone's reading it.'
While it's surprising, we kind of get it: When a book, TV show, etc. blows up, a little part of us rolls our eyes about the hype – though we always get sucked in, and we realize that we were pretty silly to scoff at something that's clearly awesome.
Admitted Blunt about finally reading the book: "I was pushing back against the train and then I got offered the film and then shallowly ran to the bookstore to get a copy.
Blunt isn't alone: Costar Luke Evans also read the bestseller after accepting his role in the film. Only, his story is a little more embarrassing, because he'd already been announced as one of the stars.
While promoting the film with Blunt he said, "I read the script and then quietly one evening I went to a late bookstore and asked 'Can I get Girl On The Train?' with my hood up and (the shop assistant) said, 'I hope you don't mind me asking but shouldn't you have read it before you got offered it today?'
Obviously, the shop assistant was up on their movie news, making the moment pretty awkward for Evans.
He continued the story of the book shop: "I said, 'Please don't tell anybody I haven't read it!'
If you're like Blunt and Evans, fear not: The Girl on the Train is released on October 7th, so you have to week to read the book if you want to do your homework before you see the film. (Which is seriously plenty of time because you won't be able to put it down)