Emilia Clarke posted a pic of herself on the set of the new Han Solo movie, and she has bangs, people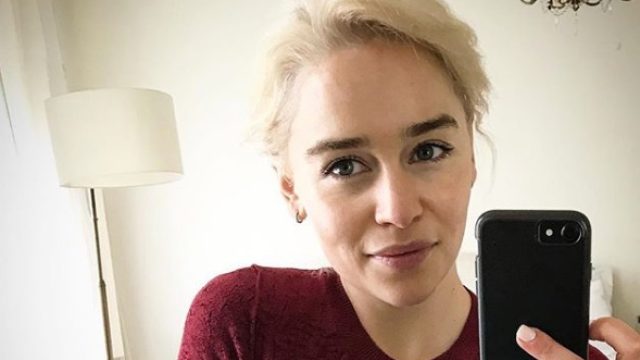 She manages to always keep us guessing when it comes to her next move, and Emilia Clarke's latest Instagram pic from the Han Solo movie shows off both an adorable hair lewk and some pretty telling hashtags. And we have so many questions.
The as-yet-untitled young Han Solo movie has been shrouded in mystery, but we do have one confirmation, and it's that Emilia has already wrapped filming her role in the flick. Also, her character apparently has killer bangs.
Yes, it was just last week that Emilia showed off a drastic new 'do on Instagram, debuting bleach blonde locks in tribute of her Game of Thrones character Khaleesi, but her newest 'gram shot shows an entirely different style.
Both Emilia and Ron Howard (who is directing the 2018 Han Solo origin story) posted the adorable selfie to their Instagram feeds with Ron revealing that Emilia "completed principal photography and is off on her next adventure." He took the opportunity to gush about the actress, adding: "We miss her already! Talented & great to work with." Aww!
While we still don't know much about Emilia's role or about the movie itself, we do know that she'll be rocking some super on-trend blunt bangs, and it's definitely a departure from her white blonde GoT 'do
We can't wait to hear more, but for right now, we'll have to patiently wait for more details as they come. Is it 2018 yet?! We are so ready!