Here's how Emilia Clarke really feels about all those explicit scenes on 'GoT'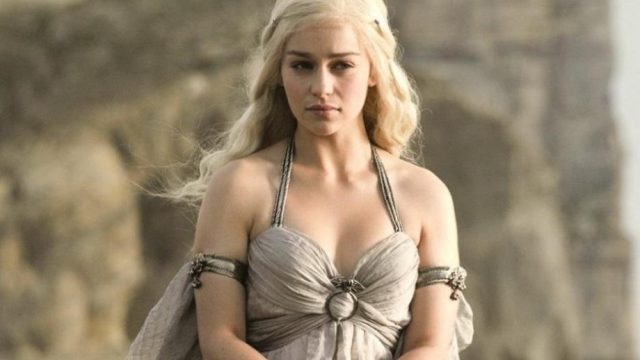 If you're not a fan of some of the bloodshed and sex scenes in Game of Thrones, you're in good company. Neither is Emilia Clarke. And while we can cover our eyes and look away any time we know something drastic is about to happen, Clarke can't exactly look away, because she's in the show, and she's filming her scenes. But if she could, she would —especially during the sex scenes.
Talking to The Daily Mail, Clarke explained that since she's British, she "[cringes] at that sort of thing anyway," and adds that she "can't stand" the sex scenes. For her, it's not that she downright hates them, or that she'll refuse to shoot any more for upcoming episodes, she simply wishes more was left up to the imagination.
"I don't want to have sex thrown in my face and I've always thought the suggestion is so much more titillating than the act itself," she further explained, before reminding us that, "Most sex scenes you see in films or on TV are gratuitous and they're usually just to attract an audience. On screen, the subtler the better."
While Clarke feels the explicit scenes in Game of Thrones is unnecessary, her co-star Natalie Dormer (who stars as the ever-cunning Margaery Tyrell) disagrees. In fact, the actress thinks the sex and violence is what makes the HBO show great. "The violence is quite naturalistic. It's not hyper-stylised. It's not glamorous. The sex is quite real and dirty as well. It's about those raw, visceral qualities of human life that make good drama," Dormer told The Telegraph.
And some may argue that the sex scenes are bound to happen. They've been written in George R. R. Martin's A Song of Ice and Fire, and for many, that's just how the characters have behaved all along. So, they're going to keep on shooting sex scenes for them to stay true to the narrative.
But maybe Clarke's aversion to them has already made its way into the show. The only sex scene this past season for her (and Daario) showed them after they presumably had sex, and they were both mostly covered up. That left everything to the imagination. But clearly if Clarke had her way, there'd be no more of these scenes for Daenerys Targaryen. All fighting and ruling kingdoms and riding dragons —and that's how you conquer the seven kingdoms, after-all. 
(Image via HBO)
Emilia Clarke does her vest Valley Girl impression, and it's like, OMG perfect
Natalie Dormer just got real about the problematic way feminism is misconstrued