Emilia Clarke's latest Instagram proves she's SO EXCITED to be part of the "Star Wars" universe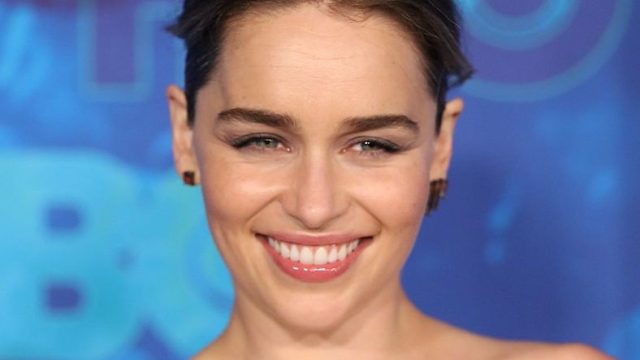 You probably already heard the news that Emilia Clarke has been cast in the new Star Wars movie about young Han Solo. And if you were excited to hear about the Game of Thrones actress joining the Star Wars universe, she is right there with you. Clarke posted on Instagram a looping video of her hugging an oversized Stormtrooper toy showing her excitement and thanking her fans.
Clarke looked legitimately thrilled as she embraced the Stormtrooper. (Hey! They're the bad guys!) She credited her getting the role to her 8 million Instagram followers, writing:
YOU guys did it. Literally. All of it. Thank you, thank you, thank you. ❤️❤️❤️
While it's super sweet that Clarke is saying her fans helped her land this role alongside Alden Ehrenreich's Han Solo and Donald Glover's Lando Calrissian, anyone who has seen Clarke slay as Khaleesi — aka Daenerys Targaryen — knows she earned this role all on her own.
Variety reported that Clarke beat out a number of actresses for the part, including Tessa Thompson (Westworld), Naomi Scott (Power Rangers), Kiersey Clemons (Dope), Adria Arjona (Emerald City), Jessica Henwick (Game of Thrones' Nymeria Sand), and Zoë Kravitz (Fantastic Beasts and Where to Find Them). Although we would have loved to see any of these actresses play the part (especially since they would have given the Star Wars universe more diversity), we know Clarke will do an excellent job.
And I guess that it shouldn't be too surprising that Clarke got the part since the new Star Wars movies really love their British female leads — like with Daisy Ridley in The Force Awakens and Felicity Jones in Rogue One.
While we are just as pumped as Clarke that she will be in this spinoff about Harrison Ford's iconic character, we still have no idea who she'll be playing. However, there's OF COURSE speculation she could be an early love interest for Han.
What would Leia say?!
And if you didn't already think that Clarke was outrageously relatable — besides the fact that she's a humongous star and all — she compared finding out that she was cast to Christmas coming early. And even threw in some Queen lyrics by quoting the "Bohemian Rhapsody" lyrics: "Is this the real life? Is this just fantasy?"
Yes, this is your real life, Clarke. But it's also totally our fangirl fantasy come true.