Emilia Clarke hardcore debunked this "Game of Thrones" fan theory about Tyrion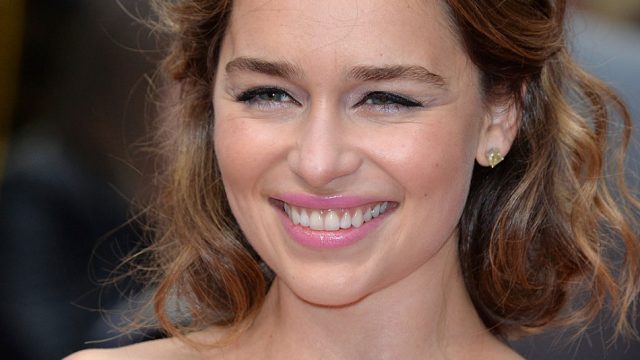 When you've got a popular television show, fan theories will follow. And some of them can get pretty ridiculous. Emilia Clarke from Game of Thrones debunked some theories regarding the show in a video for Elle, and out of all of them, the theory that brought up about Tyrion was definitely the strangest.
First, a little backstory. Many seasons ago, Clarke's character, Daenerys Targaryen, was pregnant with Khal Drogo's child. Unfortunately, due to a blood magic ritual, her son — set to be named Rhaego — was stillborn. The scene itself was upsetting, but was a big stepping stone in her story.
According to one fan theory, Tyrion Lannister — brother of Jaime and Cersei — is actually a "time traveling fetus," and son of Daenerys and Drogo.
https://www.youtube.com/watch?v=Yt0NHxtvdWc?feature=oembed
As you can see, Clarke's facial expression says it all.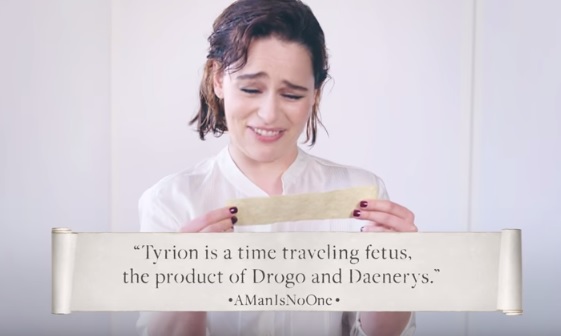 Like with all of these absurd theories, Clarke was quick to set the record straight.
"I don't think so," Clarke said with a laugh. "There's a whole lot of history about the fact that he was kind of born, and killed his mom doing it. So, I don't know how that's going to hold up."
That wasn't the only bonkers theory Clarke learned about on Elle's set.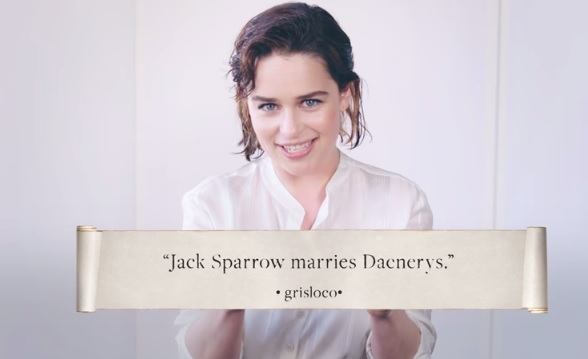 Someone thinks that Pirates of the Caribbean and Game of Thrones are linked together. That sounds like the perfect fan fiction waiting to happen.
One fan also pairs up Daenerys with Sam, which is pretty interesting. We'd definitely watch that spin-off. (We're just not sure what Gilly would think.)
It's unlikely that any of these theories will come true, but there's only one way to know. Game of Thrones airs on Sunday on HBO, and even if Tyrion isn't a secret time traveler, he surely has more to his story that we'll soon be able to see.