Emilia Clarke is back on the "Game of Thrones" set and shared her first behind-the-scenes vid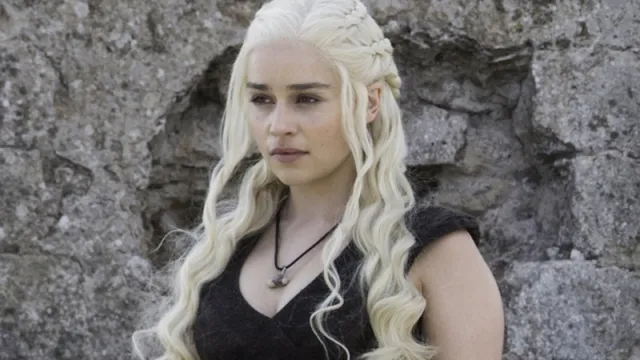 Of course, Daenerys Targaryen could wear anything and look good, but who knew she'd be down to rock a gray hoodie?! Well, at least that's what Emilia Clarke is wearing on Game of Thrones in her latest behind-the-scenes Instagram post. Yes, Clarke is back filming Game on Thrones as Daenerys Targaryen and it seems she's having a hard time getting back into the swing of things after the holidays (despite her cuddly attire).
After some time off from filming Game of Throne's Season 7, Clarke has returned to the set and is rocking her patented platinum Daenerys wig (and her own hoodie). Apparently though, concentrating on being Khaleesi is a struggle after the New Year, as her Instagram looping video notes.
She wrote:
"For gods sake Emilia put the holiday champagne DOWN and put that wig back on!
As per usual, she also included the most hilarious, one-of-a kind hashtag: #dontdrinkanddrivedragonscapieche?
See, she's having such a difficult time because two weeks ago, Clarke was enjoying some downtime in a swoon-worthy coat while she threw some citrus fruits — as one does.
So now she's having a hard time coming down from the holiday hangover. While most of us understand the struggle of heading back to work after celebrating the holidays, we never even thought about our beloved Clarke feeling the same.
The struggle is indeed REAL.
Yet, we know that Clarke is just having fun on social media and that she is absolutely SLAYING her role as Daenerys  — even if she is being super goofy out of character for our amusement.
Here's hoping the rest of January is filled with other Game of Thrones behind-the-scenes photos and videos from Clarke. It's the only thing that will keep us relatively content until Season 7 premieres.