Saturated Colors Will Be The "It" Home Decor Trend in 2023—Here's How to Use Them
Modern Coastal and Micro-Luxury are also expected to dominate the home decor space, experts say.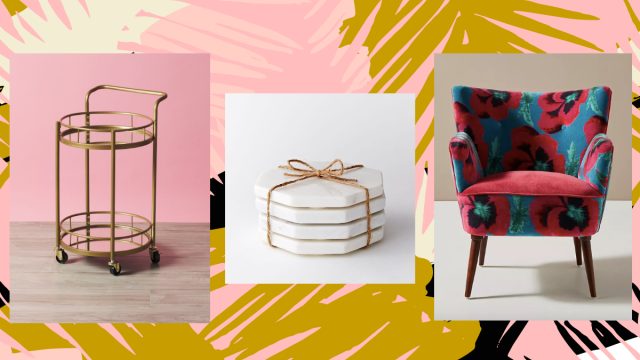 The product recommendations in this post are recommendations by the writer and/or expert(s) interviewed and do not contain affiliate links. Meaning: If you use these links to buy something, we will not earn a commission.
You may take pride in having a pulse on emerging interior design trends. Your space may also look like the inside of a consignment shop (but, like, in a totally cool way where nothing really matches yet is still a cohesive vibe — ya feel?).
Wherever you fall on the barometer of home decor trends, you may have an inkling to look at last year's pop culture and fashion trends as a forecast of what's to come in 2023. And experts say that's a great place to start.
Earth tones had a big moment in 2022 and are predicted to catapult us into the new year, but with a bigger, bolder twist. With the rise of neutral and all-white aesthetics a lá Kim Kardashian, some are leaning towards a more clean and modern look, but with a splash of luxury.
RELATED: 30 Best Zodiac Tattoo Ideas
The new year, for many, is an opportunity to start off on a blank slate. Revamping your space can be as extravagant or minute as you want it to be.
Swapping out glassware, pillows, throws, and rugs are minor home decor tweaks that go a long way. For a total transformation, let your imagination run wild with furniture pieces or oversized light fixtures and artwork.
We tapped the design and style experts at HomeGoods to find out what home decor trends we can expect to be at the forefront of 2023 — and more importantly, how we can start incorporating these trends into our home now.
Saturated Colors
Saturated colors are expected to rule the home decor space in 2023. HomeGoods style expert and interior designer Beth Diana Smith predicts bold earthy tones especially in reds, pinks, and mauves will be of abundance as trends like Cottagecore and Barbiecore rose to significance during 2022.
"While we naturally tend to think of certain hues of greens, browns, yellows, and oranges when we think of earth tones, reds and pinks are popular in nature, too, and we have increasingly seen consumers gravitate towards earth tones," Smith tells HelloGiggles.
"From muted to bold" — Smith explains this transition of saturated earth tones is a result of people "pushing the envelope" when it comes to home design. "Being bold and living authentically have been the lifestyle theme the last few years. This has carried over into how and where we want to live," she adds.
So, what's the easiest way to incorporate saturated colors into your space? Smith recommends shopping for bold printed pillows, decorative objects like ceramic vases, and art that grabs attention and can easily be moved around. However, for those looking for something with a bit more pizzazz, Smith points to velvet sofas, colorful upholstered chairs, and wooden hand-carved tables.
"Home items are very similar to fashion items, once you see 'it' in that color, you know whether you want to take it home," she says.
Bringing in bright and bold colors can be daunting to the naked eye, especially if your home is of the muted or nude aesthetic. For a small change with a big impact, opt for an area rug or an oversized piece of art. "This becomes a design moment that will be eye-catching for guests and make a true design statement," Smith explains.
If you've been wanting to breathe some *bold life* into your space, saturated colors might be the home decor trend for you in 2023.
Shop the trend:
Home Goods 17-inch Indoor Outdoor Woven Stool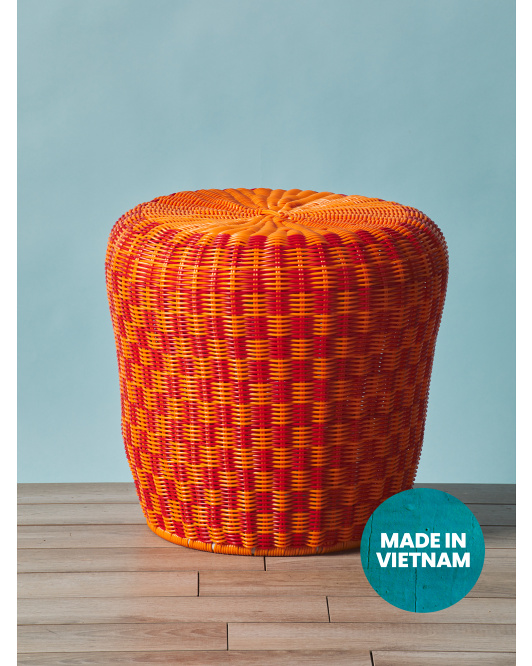 Add a pop of color with this vibrant wooden stool, suitable for indoor and outdoor climates. You can use it as a footstool, a side table for food and drinks, or as a decorative corner piece.
Price: On sale for $49.99 at homegoods.com
Anthropologie Velvet Tanya Petite Accent Chair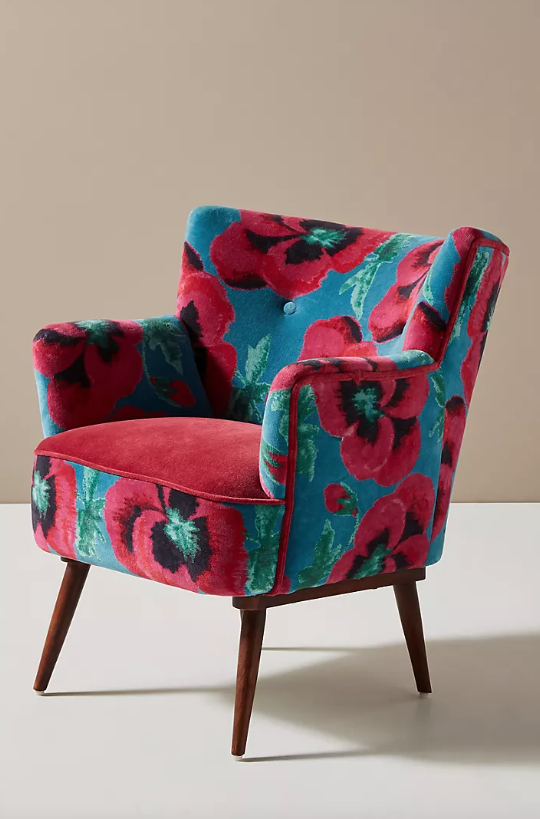 For those looking to make a big change, this upholstered plush velvet chair is saturated (no pun intended!) in a beautiful mauve and blue floral design. Made out of Acacia wood, the chairs' legs really tie the fabric back to its earthy roots.
Price: $598 at anthropologie.com
Fleur De Lis Living Abramson 15.5" Tall 3 Legs End Table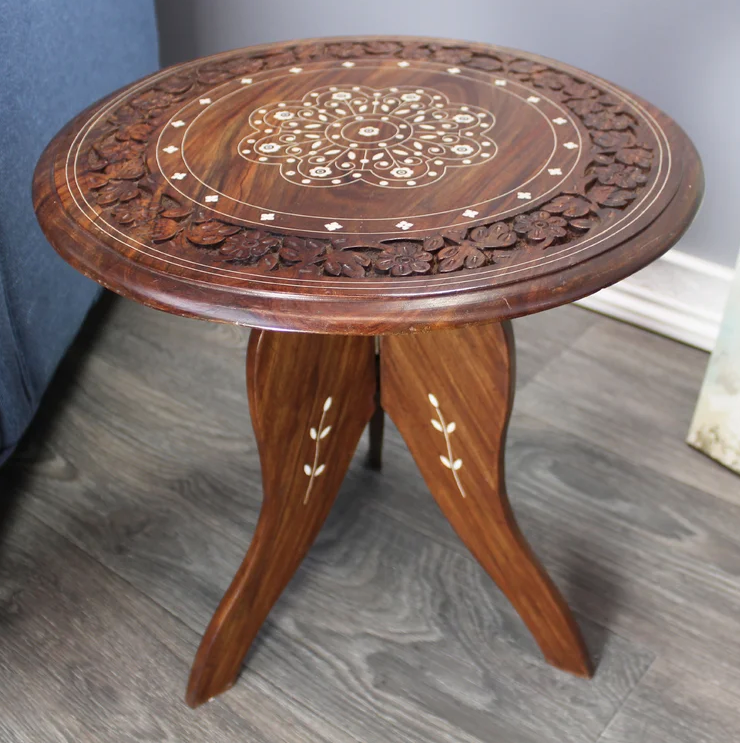 Hand-carved tables are predicted to be "in" in 2023, and this one available on Wayfair features a subtle yet artful design. Every table sold is made from natural rosewood and hand-polished by a craftsman.
Price: On sale for $147.99 at wayfair.com
Modern Coastal
On the heels of the Coastal Grandmother trend, decor pieces with a modern coastal aesthetic are predicted to fly off the shelves in the new year.
"This beachy, romantic aesthetic really came to life via TikTok in the early part of 2022," HomeGoods style and lifestyle expert Jenny Reimold tells HelloGiggles. "Due to its ability to transform and elevate a space, the coastal grandmother style seems to be evolving from shabby chic into a clean and modern coastal look."
Reimold is anticipating fewer floral fabrics and sailboats and more muted pinstripes, driftwood, and elevated brass accents. Tranquil shades of blues and mixed neutrals are predicted to dominate the home design space, too.
The modern coastal trend calls for a textured mix. If you're operating on a tighter budget, Reimold suggests textured rugs (handwoven jutes or ivory knit), gauzy window treatments, or relaxed raffia lamp shades. Hand-carved wood bowls, waffle knit throws, and grid striped pillows also run on the cheaper side, and are relatively more discreet.
If you're looking to do a full room transformation, Reimold recommends starting with a fresh coat of paint. "Opt to repaint an entire room and add an accent wall of soft blue," she tells HelloGiggles, noting how paint "can easily transform any room at minimal cost."
Next, replace boldly colored bedding with layered, neutral duvet covers and quilts. To tie the room together, bring in a textured rug or bright and airy accents such as a sea glass vase, woven basket, or ocean-scented candle.
Those looking to rejuvenate their space with calm and peaceful vibes may find solace in the modern coastal aesthetic.
Shop the trend:
NAUTICA 3×5 Geometric Rug
Modern coastal is all about leaning away from navy blue to ocean blue, and this patterned rug captures that perfectly with undertones of gray. Its subtle geometric design makes it easy to pair with textured pillows and throws.
Price: On sale for $18 at homegoods.com
Sand & Stable Victoria Round Wood Wall Mirror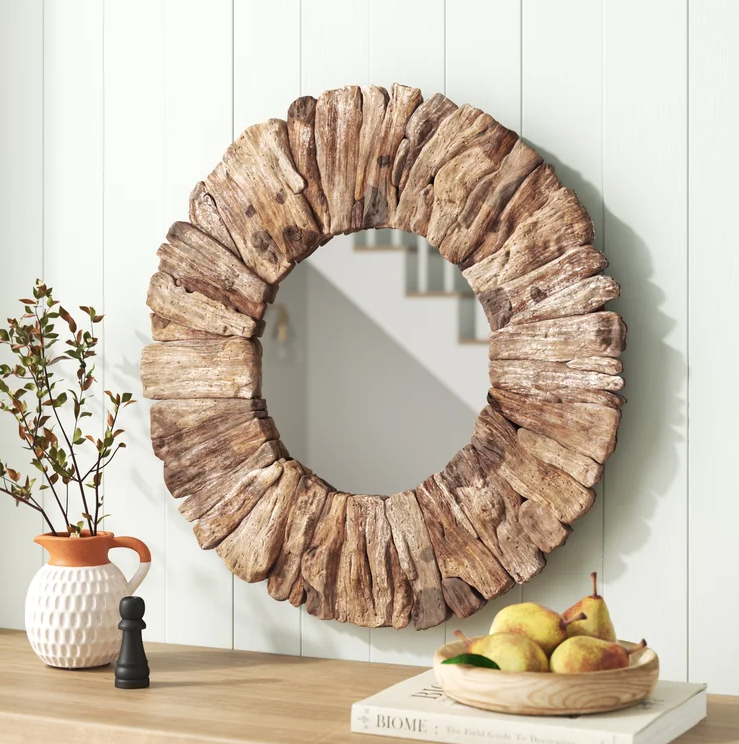 Driftwood accents are a key ingredient in nailing the modern coastal aesthetic. If you're running out of physical space, hanging decor like mirrors helps fill and tie a space together.
Price: On sale for $106.99 at wayfair.com
Urban Outfitters Wrapped Seagrass Lamp Shade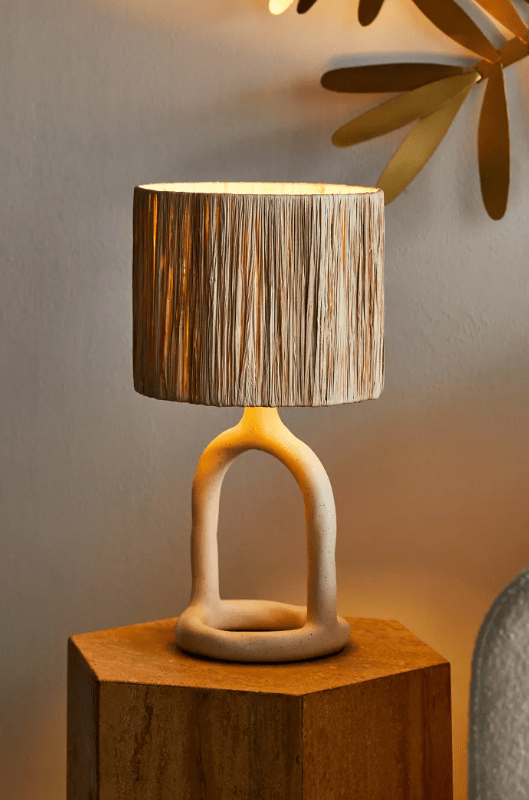 This seagrass lamp shade is the definition of shabby chic. Give your current lamp a modern coastal upgrade or shop for a hand-carved (like the one pictured) or brass base.
Price: On sale for $34 at urbanoutfitters.com
Micro-Luxury
In 2023, luxury is expected to make a comeback…and on a budget. Dubbed "micro-luxury," the emerging home design trend thrives off plush, rich materials and textures.
"Micro-Luxury allows even those of us on a budget to feel like we are living in the lap of luxury in our decor," HomeGoods and DIY expert Ursula Carmona tells HelloGiggles.
So what constitutes items as "micro-luxe" aside from the low price point? Carmona says to keep an eye out for marble finishes, gold metallics, sophisticated materials like faux fur and velvet, and oversized accents.
"Remember that the micro-luxury look isn't necessarily about having more, but about choosing a few simple high-impact pieces that will make a statement," Carmona explains.
An ornate gold mirror, marble-topped end tables, large lamps, and handcrafted ceramic accessories are all minor yet noticeable ways to give your space a micro-luxe makeover. Decorative faux fur throws and gold rimmed plates or cocktail glasses do the job, too.
If you're looking to elevate your home with a touch of glamor in 2023, micro-luxury may be the answer.
Shop the trend:
MERCER & MADISON 27-in Metal 2 Tier Bar Cart With Wheels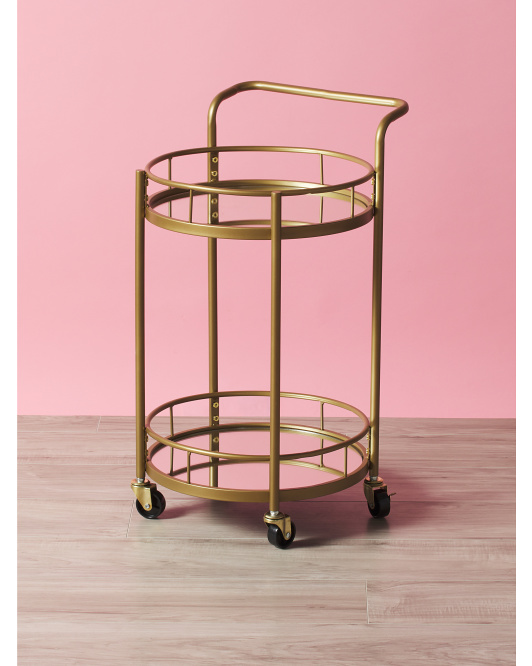 House your cocktail glasses and liquor all in one place with this gold two-tier bar cart. The best part? It's on wheels so you can chauffeur from the kitchen to the living room with ease.
Price: On sale for $129 at homegoods.com
West Elm Marble Octagonal Coasters (Set of 4)
Nothing screams luxury like marble.These octagonal coasters had both glamor and dimension to any coffee or side table.
Price: $32 at westelm.com
Anthropologie Waterfall Coupe Glasses, Set of 4
While available in five different colors, we can't get over these waterfall coupe glasses in the honey luster hue. The rimmed cocktail glasses are like golden hour in a cup.
Price: $64 at anthropologie.com
Which of these predicted home design trends will be your aesthetic heading into 2023?
Emily is a NYC-based freelance entertainment and lifestyle writer — though, she'll never pass up the opportunity to talk about women's health and sports (she thrives during the Olympics).
Read more