These 10 embroidery hoop art gifts are SEW CUTE
The pressure of finding the perfect gift for someone in particular can be crippling and that pressure sometimes leads to you buying a bag filled with candy or even worse, a gift card. Yikes! Where's the personality in that?
But in actuality, finding a unique, handcrafted, and affordable gift isn't really that hard with sites like Etsy at our disposal. For example, right now, embroidery hoops are totally trendy home decor pieces that can be personalized to fit any friend. Plus the detail and effort that goes into making each one will definitely make your recipient feel loved.
We've compiled a list of some beautiful and clever embroidery hoop designs that will surely lead you in the right direction when it comes to finding something perfect for a certain friend.
1. The "Smash The Patriarchy" hoop for your feminist friend.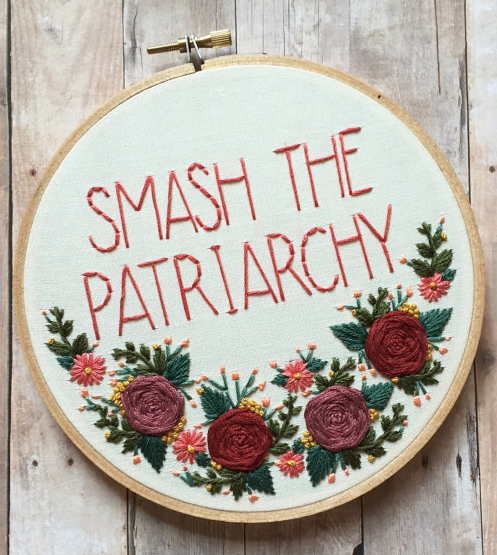 This thing of beauty from MoonriseWhims on Etsy is ideal for all your BFFs who are sick and tired of living in a man's world. Buy here for $55.
2. The "Cactus" hoop for your succulent obsessed BFF.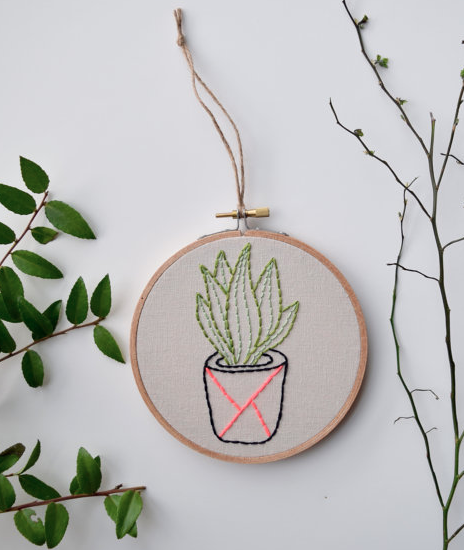 We all have that one friends who hopped on the succulent train recently and has the prickly things everywhere. Why not get her this super simple and sweet cactus embroidered piece to hang alongside the real things. Buy here from JustWastingThyme on Etsy for $25.
3. The "Girl Boss" embroidery for your amiga who is taking charge.
RedWorkStitches on Etsy has got it going on when it comes to offering the perfect gift for your friend to show how proud you are of her taking control of her life. Girl bosses rule the world, and don't you forget it. Buy here for $57.
4. The "Floral Human Torso" embroidery for the friend who went to med-school (or who would just think this looks cool).
Also from MoonriseWhims on Etsy, this really cool and anatomically correct torso embroidery if perfect for your smart doctor friend, or for your friend who likes weird stuff. We're honestly the latter of those two friends. Buy here for $65.
5. The "Death Before Decaf" hoop for the friend who will turn to ash without coffee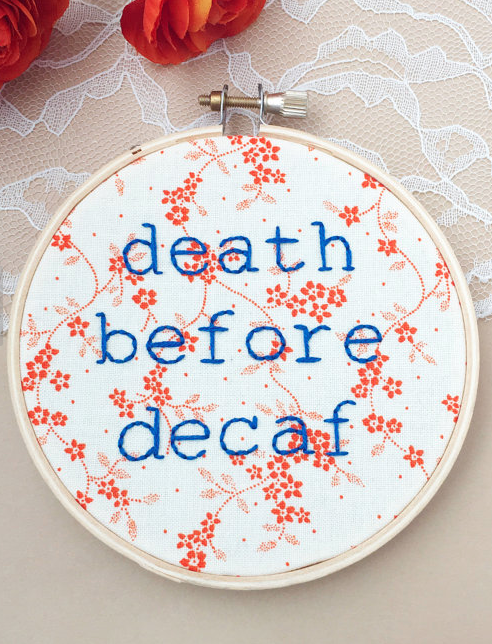 This simple yet poignant piece is from PlaidLoveThreads on Etsy and we guarantee it will speak to the one in your friend group who cannot function without a steaming cup o' joe in her hand first thing in the morning. Buy here for $24.
6. The "Frozen" embroidery hoop for your Disney encyclopedia friend.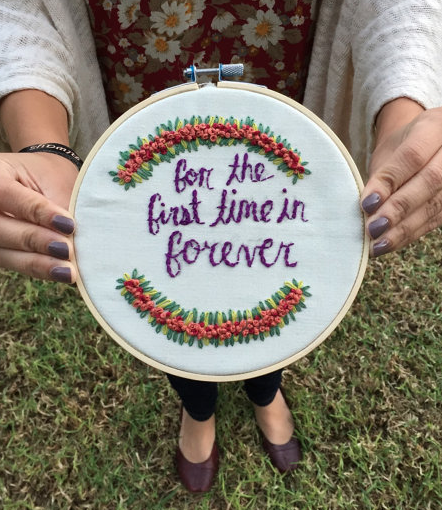 These lyrics from Disney's Frozen might be stuck in your head for days, but they'll stick in your friend's heart forever – it's cheesy but true! Buy this piece from TheClosetCatShoppe on Etsy for $25.
7. The "Stay Sexy, Don't Get Murdered" hoop for the friend group clown.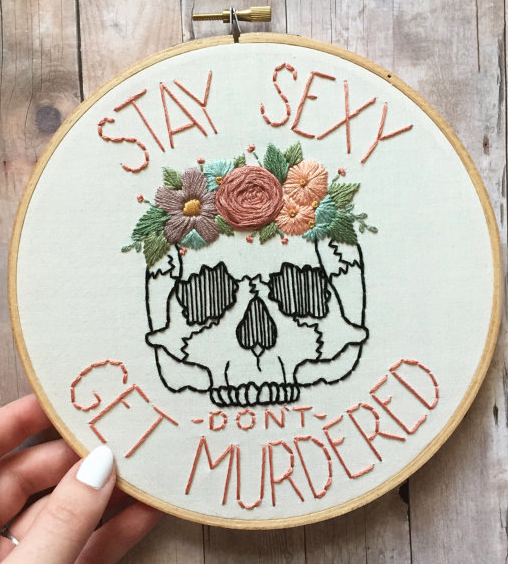 MoonriseWhims is back at it again with the "Stay Sexy Don't Get Murdered" hoop. Any friend with a good sense of humor would love to unwrap this hoop as a gift. Plus, when you think about it, this is some sage advice to live by (especially if you are a fan of the "My Favorite Murder" podcast). Buy here for $60.
8. The "Half Moon Wire Wrapped" hoop for the nature-loving bohemian in the bunch.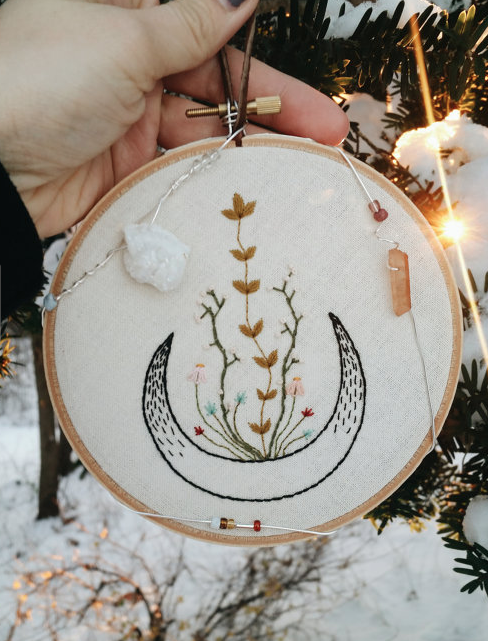 From wildflowerthreads on Etsy, this beautiful nature themed piece is a great gift for the girl who lives her life by the moon phases and perhaps has a little witchy side to her. Buy here for $35.
9.The "Be Present" hoop for the friend who always needs a little reminder.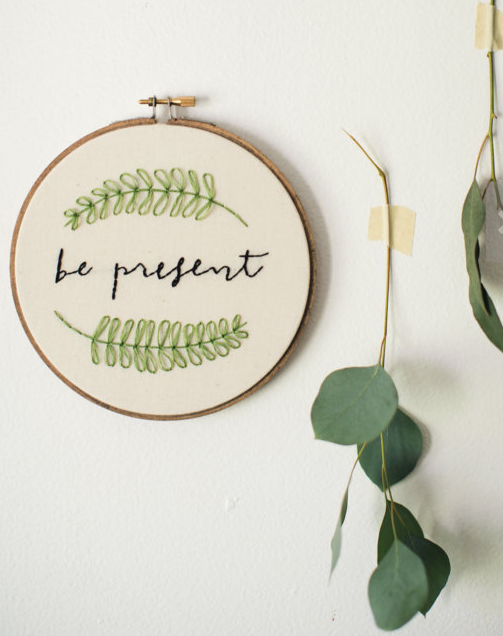 For the worrier or the one who can never seem to live in the moment, ThisleThreadDesign on Etsy has provided a great gift to serve as a reminder to always "be present." Buy here for $38.
10. The "Subway System" hoop for long-distance friends.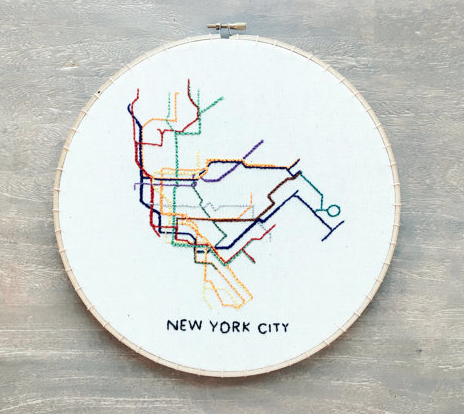 A custom made subway system embroidery would be a perfect gift for a friend who has moved away from home. This would also be ideal for friends who lived in the same city for college and have since moved away. Check out KnotandStitchShop on Etsy to inquire about getting your own custom subway system embroidery for around $54.
Handmade gifts always add a little something special to the holiday season. And with the versatility of embroidery hoop art designs, you're sure to find something for each friend in the group that they will love and appreciate.