Elton John's tribute to David Bowie is breathtaking
Elton John is a man who needs no introduction. With almost fifty years since the release of his first album, John has gone on to become a worldwide phenomenon whom many musicians even today look to with respect and admiration, as well as for inspiration.
But even our biggest heroes have heroes of their own. During an intimate show this past Wednesday at Los Angeles' Wiltern Theatre, John paid tribute to the late David Bowie in the form of music – specifically, with an instrumental rendition of Bowie's famous "Space Oddity," which John then brilliantly turned into a mashup with his own "Rocket Man."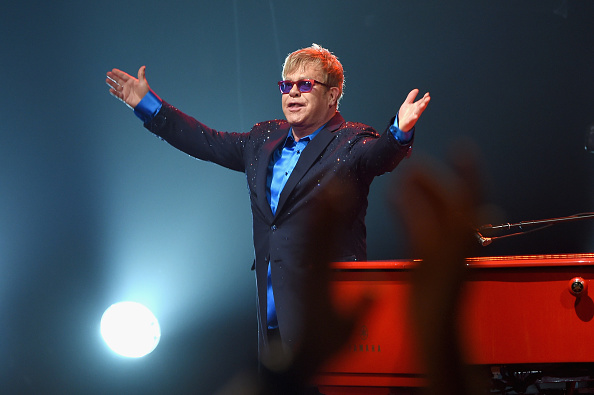 Before the performance, John – who had his big break in the music world pretty soon after Bowie – shared with the crowd the story of its significance. Before he recorded his self-titled sophomore album (which was his first album released in the U.S., and the one that ended up rocketing him (no pun intended) to stardom with the popularity of the hit single "Your Song"), John was having trouble deciding which direction he wanted to go to in terms of production and was looking for a bit of inspiration that would end up helping define the entire trajectory of career.
"The songs were very classically orientated," John told the crowd of Elton John at the Wiltern Theatre show Wednesday night. "I didn't know who I wanted to use. Then I heard a record which blew me away. It's called 'Space Oddity.'"
John then went on to say he has David Bowie to thank for the connection between himself and "Space Oddity"'s producer Gus Dudgeon, as well as arranger Paul Buckmaster. Both men worked with John on his self-titled album, proving that David Bowie touched not only the lives of us normal weirdo folks, but many super-famous and talented people as well.
Case in point: Earlier this week, John posted a beautiful black-and-white photo of Bowie on Instagram, accompanied by the caption, "I am still in shock. Never saw it coming. My deepest condolences to Iman and the family. An amazing life. An amazing career."
"He was innovative, he was boundary-changing, and he danced to his own tune — which in any artist is really rare," John told Rolling Stone of Bowie the day before his tribute performance.
Watch the entire beautiful tribute below, and join us in recounting how paltry all the reasons we weren't at this show truly are.
(Image via Getty Images/Larry Busacca)