The long-anticipated The Devil Wears Prada musical is finally, officially happening
Update, September 19th, 10:20 a.m. EDT: In news at least four years in the making, the long-awaited Devil Wears Prada musical is officially a go. In the words of Miranda Priestly: Groundbreaking.
According to The Chicago Tribune, The Devil Wears Prada musical will premiere at Chicago's James M. Nederlander Theatre next summer, July 14th until August 16th, 2020. It will, of course, follow the movie and original book storyline of Andy navigating the cutthroat world of fashion magazines and her even more cutthroat boss. Elton John (yes, Elton John) is on board to score the production.
No casting has been announced yet, but we're crossing our fingers and toes for at least someone from the movie's cast. Emily Blunt has proven her musical prowess with Mary Poppins Returns, Anne Hathaway starred in the musical movie Les Misérables, and Meryl Streep is Meryl-freaking-Streep.
Looks like we're booking flights to Chicago next summer.
Original post, January 2017: As if the fact that a musical version of The Devil Wears Prada will eventually exist wasn't exciting enough, now there's even more to celebrate. Musical icon Elton John is joining the Devil crew to bring the hit 2006 film starring Anne Hathaway and Meryl Streep to stage.
In the film, Anne Hathaway's character works for the tough editor-in-chief of a fashion magazine and basically the biggest nightmare in the world. That's how good Meryl Streep is—she made us believe that she's not the most wonderful human on the planet.
Let's just put it out there: People are psyched for this musical.
Basically what we're saying is: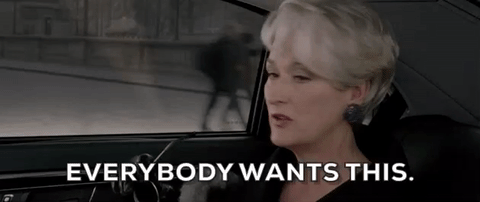 We can just go ahead and pray that Anne Hathaway and Meryl Streep reprise their roles, right? Both can sing, you know. And in this perfect world, where the two star in the musical as their OG characters, is there any question they won't win Tonys? Especially with Elton John writing the music? While we're at it, Emily Blunt can sing too. Just saying.
Elton John has a few hit shows under his belt, like a little musical you may know called The Lion King. And then there's Billy Elliot: The Musical. Also, Elton won a Tony in 2000 for Best Original Score for Aida. He's won Grammys, Golden Globes, and Academy Awards for his music. So with all his epic talent joining the team of The Devil Wears Prada musical, the show has already been set up for success.
Okay, so let's not get ahead of ourselves quite yet. There's no release date or casting news, unfortunately. But this musical is happening and Elton John is involved, which is enough good news to get us through for now.