Elon Musk is sending two (super rich) people to the Moon in 2018!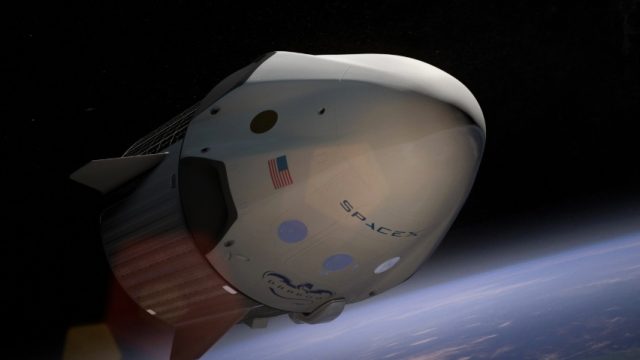 Okay, we've heard the rumors that space travel will begin again in earnest at some point in time, but apparently tech billionaire Elon Musk is sending people to the moon in 2018! As in, next year.
We're talking about just two people; two of the of the luckiest (and undoubtedly, richest — since this trip is costing them "a significant deposit") people on earth, who are paying to travel with Musk's private spaceflight company, SpaceX.
We don't know who the people are, but they are said to have approached Musk with the request. According to what Musk said during a press call, the trip will take about a week, and the travelers will "skim the surface of the moon." Can you imagine?!
Training for this epic trip is set to begin later this year, as well as extensive health and fitness tests. "Once operational Crew Dragon missions are underway for NASA, SpaceX will launch the private mission on a journey to circumnavigate the moon and return to Earth," SpaceX said in a statement on their website.
"Like the Apollo astronauts before them, these individuals will travel into space carrying the hopes and dreams of all humankind, driven by the universal human spirit of exploration. [...] This [trip] presents an opportunity for humans to return to deep space for the first time in 45 years and they will travel faster and further into the Solar System than any before them."
We're looking forward to more information about this exclusive trip, and as excited as we are about the prospect of the world eventually providing an interplanetary experience, we're super comfortable learning about these scientific endeavors from the safety and comfort of our couches.
You know, if we're being all honest and everything.