Elon Musk deleted his companies' Facebook pages amid #DeleteFacebook, and it's like the battle of the billionaires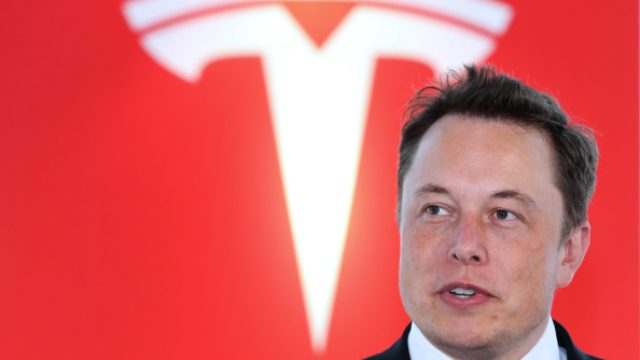 Ever since the bombshell dropped on March 17th that a data analytics firm had used Facebook to secretly collect users' data, calls to #DeleteFacebook have taken over the internet. And today, March 23rd, Elon Musk, the eccentric billionaire behind SpaceX rockets and Tesla was one of the first celebrities to actually follow through on this plan, igniting a battle of the billionaires.
The inventor's Facebook purge began when he replied "What's Facebook?" to a March 20th tweet from WhatsApp founder Brian Acton encouraging his followers to #deletefacebook. A separate Twitter user replied to the thread, urging Musk to delete the SpaceX page. Musk responded that he would, writing that he "didn't realize there was one." Another user suggested the inventor remove Tesla's page as well, and Musk simply said, "Looks lame anyway."
Sure enough, Musk kept his word. Both pages, which had about 2.5 million likes each, vanished. But the inventor's personal Instagram, which is owned by Facebook, has been left untouched, although Musk implied he was considering deleting it. In a reply to a tweet, he wrote that the photo-sharing network was "borderline" and that "FB influence is slowly creeping in."
The sudden removal of both pages turned up the heat on Musk's pre-existing feud with Mark Zuckerberg, CEO of Facebook and fellow billionaire. The two have butted heads over artificial intelligence, with Zuckerberg arguing that it's a useful tool and Musk claiming that it could pose a threat to humanity. In response to Zuckerberg calling Musk's view "really negative," Musk remarked that the Facebook CEO's "understanding of the subject is limited." Additionally, when a SpaceX rocket exploded in 2016 while carrying a Facebook satellite, Zuckerberg remarked only on the loss of the satellite in a shady statement.
"I'm deeply disappointed to hear that SpaceX's launch failure destroyed our satellite that would have provided connectivity to so many entrepreneurs and everyone else across the continent," Zuckerberg posted on Facebook.
Musk's nonchalant deletion of his companies' pages definitely sends a message to Zuckerberg. But only time will tell if #DeleteFacebook becomes a distant memory or if other tech gurus follow in Musk's footsteps. If you're feeling as bold as the founder of Tesla, you can also delete your own Facebook page — if you dare.