Ellen Page's upcoming movies sound incredible
There's a whole lot to love about Ellen Page. The talented actress broke into our hearts with her breakout role as Hayley, the tough, vengeance seeking tween in Hard Candy, and has done nothing but impress us since.
That's why we're super excited to hear all about these amazing upcoming Ellen Page movies that come out 2016-2017. 
This first one is a remake of the 1990 sci-fi horror Flatliners. 
The original was about a group of medical students who explore experiments with death and near-death experiences with terrifying consequences. Although we're not sure what character Page will portray, we know that her incredible co-stars are Nina Dobrev, Charlotte McKinney and Kiefer Sutherland. This reboot is slated to come out August 18th, 2017, so we unfortunately have to wait until next summer, though you can watch the original trailer on repeat here in the meantime.
Page will also be playing the lead in the movie "Lioness." 
The movie (which is set to come to theaters in 2017) is based on the true story of a marine stationed in Afghanistan who was the leader of the first female engagement team who had to work with Afghani women to spy on their husband's in the Taliban. Anyone who has seen Hard Candy or Inception knows how well Page can walk the line between sweet and scary, so the prospect of her playing a marine in a tense combat situation will likely make for an incredibly thrilling movie.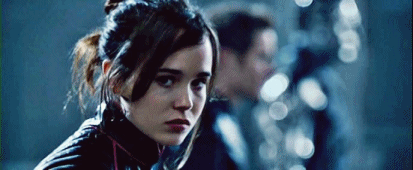 In between these intense thrillers, Page is also going to play a character in the animated film Robodog. 
Luckily for us, this movie is currently set to come out sometime this year so we hopefully don't have to wait to long to see it. Page will be voicing an animated character for the first time alongside her hilarious Super co-star, Rainn Wilson. We don't know a ton of details about this movie, but the name alone and the fact Page and Wilson will be working together again makes us rest assured this will be a totally delightful flick.
And lastly, we're incredibly excited for Page's role in the zombie thriller The Third Wave. 
The storyline follows a world where the cure for zombies has been found, but people who were infected have to deal with discrimination from the non-infected. We love zombie films, especially when they take on a smart, psychological stance, and we can't wait to see what amazing layer Page will bring to her role in this film.
And there you have it! Almost two full years of awesome, Ellen Page films to look forward to! We're definitely getting our popcorn ready!