Ellen DeGeneres politely forced Mindy Kaling to text her entire Ocean's 8 group chain a selfie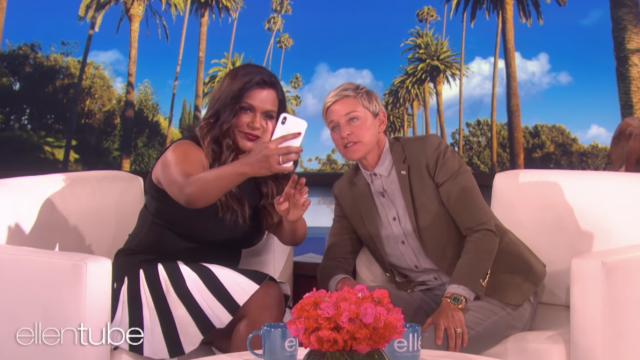 Mindy Kaling just gave us an inside look at the now-iconic Ocean's 8 group text and it's even better than we could have imagined.
Over the past year, the stars of Ocean's 8 have dropped little details about the group text chain the cast has, mostly to express incredulity in having Rihanna's phone number, but during Kaling's recent appearance on The Ellen DeGeneres Show, the comedian got Kaling to actually text the group on air.
Prompted by an eager DeGeneres, Kaling sent co-stars Sarah Paulson, Sandra Bullock, Anne Hathaway, Awkwafina, Rihanna, and Cate Blanchett a selfie with the comedian, alongside a suggestion that DeGeneres join the cast for the sequel. Naturally, DeGeneres was eager for the responses, which quickly proved the group text is *just* as chaotic as ours — with the added A-list factor.
While Kaling joked that her cast mates would likely respond with the classic "new phone, who dis?" the Champions creator got some incredible responses. Awkwafina texted back a *very* relatable, "OMFG" while Paulson cleverly threw in a few Ellen emojis.
Of course, anyone who has ever been in a group chat knows that there are a few pitfalls of having several people on one text chain, from the person who always responds to the one who is inevitably confused by the rapid subject change. We can apparently count Blanchett into the latter category, as the actress threw a previous conversation about hotels into the mix. From there, a hilariously weird exchange between Hathaway and Blanchett about Oprah ensued, to the confusion of Kaling.
Proving that stars are really just like us when we don't know to respond to a text, Kaling threw in a few heart emojis.
https://www.youtube.com/watch?v=EG6sm5Ro_LE?feature=oembed
Unfortunately, Bullock didn't respond to the selfie — much to the disappointment of DeGeneres — as according to Kaling, she was working.
As for Rihanna…she's Rihanna, so more than anything, Kaling (and Paulson before her) felt too honored to even have her phone number in the first place to expect a reply. Kaling also revealed that she was so intimidated by the pop icon in the beginning of the shoot, that she kept introducing herself during the first few days on set. Kaling told DeGeneres that after a few days of continually reminding Rihanna of her name, Rihanna stopped her, saying, "I know, we're in a movie together."
Ocean's 8 opens in theaters on June 8th.