Kate McKinnon's heartfelt speech proves how important Ellen has been for LGBTQ representation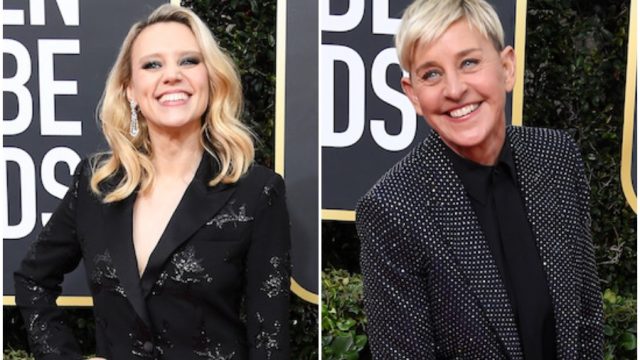 Ellen DeGeneres was honored with the Carol Burnett Award at the 2020 Golden Globes tonight—and it's a big deal. The award was first established and given to its namesake, comedy trailblazer Carol Burnett, at the Golden Globes in 2018. The Hollywood Foreign Press Association President Meher Tatna explained in a statement that Burnett was awarded for "her contributions to the entertainment industry" and for "breaking barriers while making us laugh." It's easy to see why DeGeneres was selected to follow suit.
Saturday Night Live star Kate McKinnon was the perfect choice as the presenter for the award, because she's living proof of the impact DeGeneres made on her audience. McKinnon started her speech off by explaining that the award is given to someone who "has given us decades of laughter, tears, and a new sense of what's possible." Then, she went on to list some things that DeGeneres had given her. Some were more profound and career-centered, like "a road map for a way to be funny that is grounded in an expression of joy." Others were just items of clothing she received from doing impressions of DeGeneres on her talk show, like two pairs of Stan Smith sneakers. But most importantly, McKinnon explained that DeGeneres helped her find a "sense of self."
"In 1997, when Ellen's sitcom was at the height of its popularity, I was lifting weights in front of the mirror and thinking 'Am I gay?' and I was and I still am, but that's a very scary thing to suddenly know about yourself. It's sort of like doing 23andMe and discovering that you have alien DNA," she said.
McKinnon said that the only thing that made exploring her sexuality less scary was seeing Ellen on TV.
"She risked her entire life and her entire career in order to tell the truth, and she suffered greatly for it," McKinnon continued. "Of course, attitudes change, but only because brave people like Ellen jump into the fire to make them change. And if I hadn't seen her on TV, I would have thought, I could never be on TV. They don't let LGBTQ people on TV. And more than that, I would have gone on thinking that I was an alien and that I maybe didn't have the right to be here. So thank you, Ellen, for giving me a shot, a shot at a good life."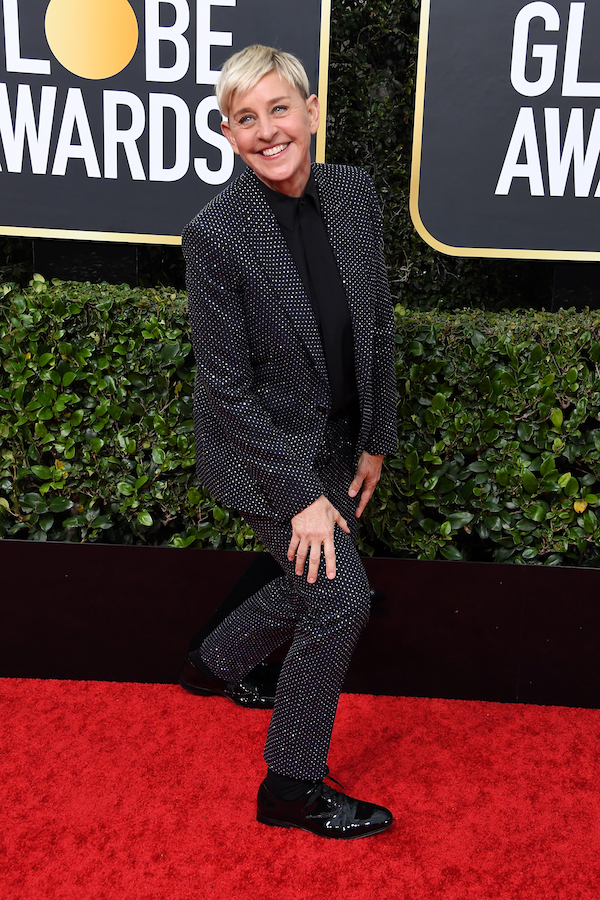 Then, she wrapped the speech up on a more on-brand note. "And thank you also for that sweater with the picture of the baby goat on it," McKinnon said.
After a video played, highlighting her historic career, Degeneres came to the stage to accept her award and give a speech. And, of course, she didn't take the opportunity too seriously. DeGeneres thanked McKinnon for her words then expressed her gratitude for the award, saying, "It's a prestigious award and what I like most about it is I knew coming in I would win." She joked about the torture of sitting through lengthy speeches, then took the audience on a long-winded journey. She started with the details of her birth story, thanked her "husband Mark," and gave a shoutout to her two kids as the camera panned to DeGeneres's smiling, non-fictional wife, Portia de Rossi. (Who came with DeGeneres in incredible matching pantsuits, btw.)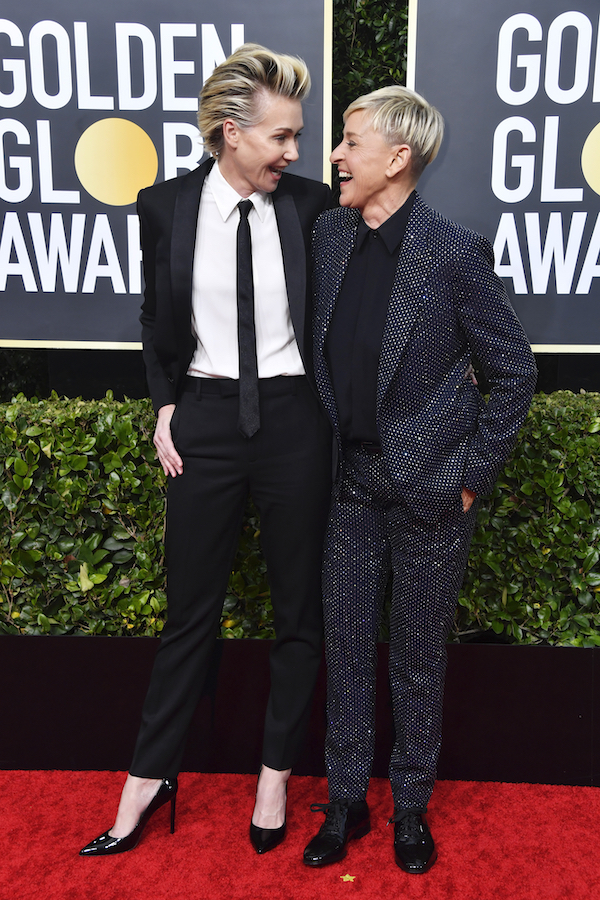 In a more serious tone, DeGeneres spoke her appreciation to Burnett with a joke at the end because, obviously.
"I felt like I knew her," DeGeneres said. "I felt like she showed us who she was every week. She was larger than life. We counted on her to make us feel good and she delivered every single week. She never let us down...She was just genuine and personal and I always felt like she was speaking to me at the end of the show. Every time she pulled her ear, I knew she was saying, 'It's okay, I'm gay, too.'"
DeGeneres finished her speech in a way that encompassed what the award is really all about.
"The real power of television for me is not that people watch my show, but people watch my show and then they're inspired to go out and do the same thing in their own lives," DeGeneres said. "They make people laugh or be kind or help someone that's less fortunate than themselves and that is the power of television, and I'm so, so grateful to be a part of it."