Ellen endorsed Kevin Hart as this year's Oscars host—and there's (justified) backlash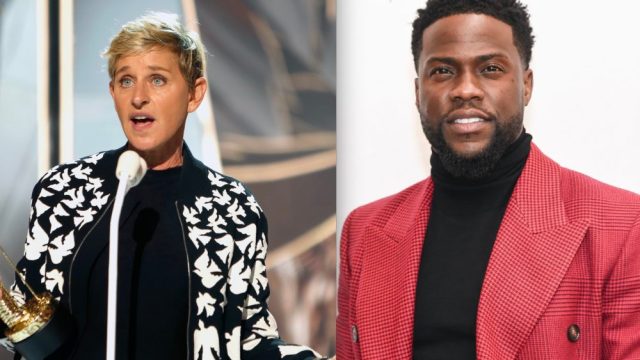 In early December, the Academy of Motion Picture Arts & Sciences announced that Kevin Hart would be hosting the 2019 Academy Awards. But less than 48 hours later, Hart stepped down from the role amid backlash for homophobic tweets he wrote nearly 10 years ago—and his initial refusal to apologize for them. Now, Ellen DeGeneres has endorsed Hart for the hosting gig.
In a January 4th segment on The Ellen DeGeneres Show, the TV host defended the comedian, even revealing that she had called the Academy and urged them to reinstate Hart as this year's host. When Hart said that the resurfaced tweets had constituted an attack on him, DeGeneres seemed to agree, telling him to ignore the "haters." She also pointed out that he had already apologized for his past remarks.
"As a gay person, I am sensitive to all of that. You've already expressed that it's not being educated on the subject, not realizing how dangerous those words are, not realizing how many kids are killed for being gay or beaten up every day," she said. "You have grown, you have apologized, you are apologizing again right now. You've done it. Don't let those people win—host the Oscars."
When the Academy asked Hart to apologize or step down from the hosting role in December, he initially responded with an Instagram video explaining that he "chose to pass on the apology" because he had already apologized in the past. He later tweeted an apology to the LGBTQ community when he announced that he would no longer be hosting.
However, many feel that DeGeneres's comments missed the mark.
false
Others noted that DeGeneres doesn't speak for the entire LGBTQ community. false
https://twitter.com/udfredirect/status/1081204984014872577
Even with DeGeneres's endorsement, Hart's comments—and his unwillingness to acknowledge why they were so damaging—are still deeply problematic. We understand DeGeneres' intentions, but also recognize that she doesn't speak for all those Hart hurt with his words.