Ellen DeGeneres is celebrating 20 years since she came out on TV, and she's doing it in the best way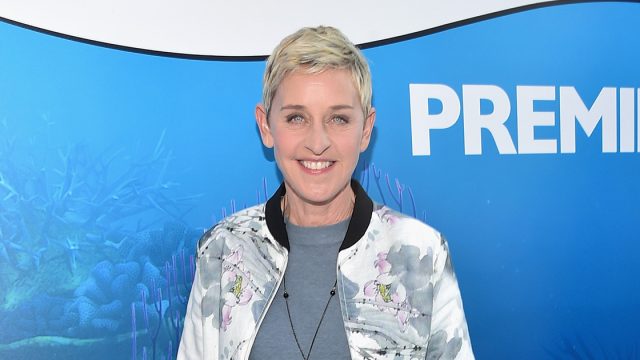 We can't believe that it's been two decades, and to celebrate the 20th anniversary of Ellen DeGeneres' iconic coming out episode of her sitcom and her own Time magazine cover, the dancing talk show host is putting together a commemorative episode of her daytime show, The Ellen DeGeneres Show.
Of course, over the past 20 years, DeGeneres has become a staunch advocate and supporter of the LGBTQ community. The 59-year-old was praised last year by President Obama where he awarded her a Medal of Freedom in an emotional ceremony, with the comedian sending her thanks back to the former President after his term in office was completed.
https://www.youtube.com/watch?v=LBNladeDWfI?feature=oembed
Now to celebrate 20 years of being out in public, DeGeneres is hosting a special edition of her show to celebrate the iconic moment.
Back in 1997, Ellen made the brave decision to come out, both on screen in her sitcom and in her personal life. The move resulted in the network cancelling the show a season later, despite the episode being watched by 45 million people and causing a cultural shift.
"I can't describe to you how challenging it was to get this episode made," Ellen says in her upcoming commemorative show. "At the time it was so controversial, which is why I thought it was so important to celebrate the anniversary and to remember what it was like back then and to appreciate how far we have come." https://www.youtube.com/watch?v=v9emoc2rEwM
In a preview clip, the star can be seen chatting to Oprah, whom she did an interview with in 1997 following the coming out episode, along with Laura Dern, who guest starred in the episode.
"Just watching the clip made me so emotional," Dern said. "Of all the things I feel privileged to have experienced in my life as a human and as an actor, there's no greater gift than being the person that was with you and looking in your eyes as you said those words [I'm gay]." 
Watch a preview of the special episode below.
Given that Ellen's journey has been chartered through her TV shows, it seems fitting that the star would reunite with some of the people who have made the experience memorable and celebrate it on her own show.
You can catch the special episode of The Ellen DeGeneres Show on Friday, April 28th.