Elle Fanning's platforms look like bowling shoes with a runway twist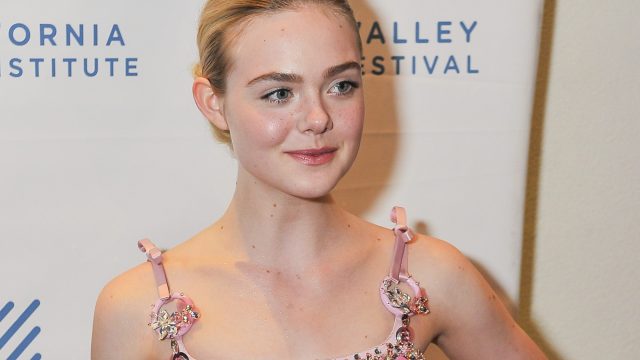 Elle Fanning and star sister Dakota Fanning attended the opening of the Anton Yelchin photography exhibit, and of course, did so in style. The sisters both kept to a simple color palette which diverted attention to their accessories. Dakota's metallic Miu Miu shoes stood out underneath her black, wide-leg pants. And Elle's '70s-inspired Prada Platform Oxfords make us want to go disco bowling on a Friday night.
We also appreciate how Elle brought some edgy vibes to her usual "fairy princess"-esque wardrobe. The fishnets and chunky shoes are out of character, but work so well.
The mustard toe, accented with the metallic soles are dying to be paired with some psychedelic-patterned bell bottoms to make the ultimate fall ensemble with vintage flair.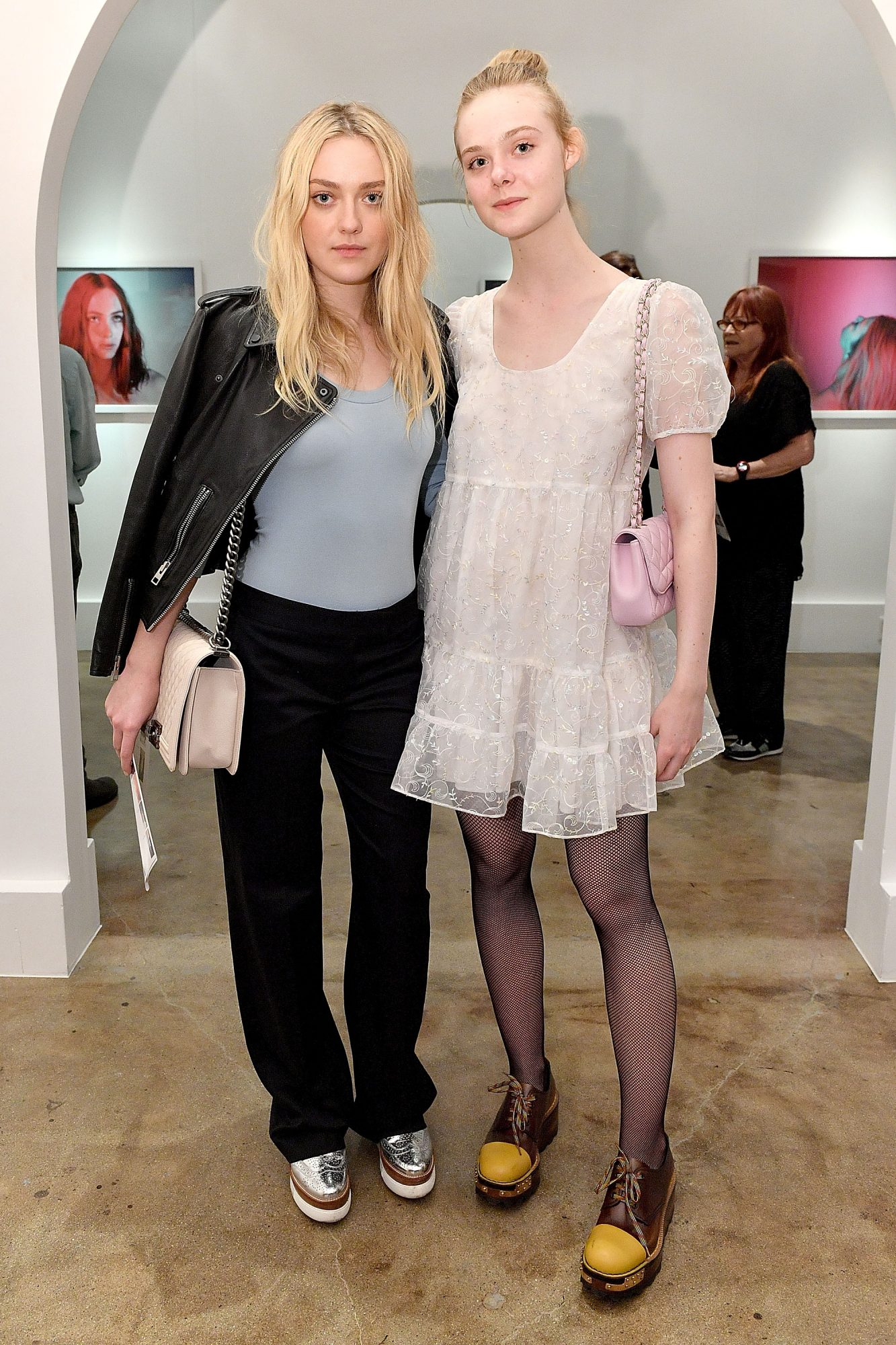 Let's take a closer look so we can better analyze: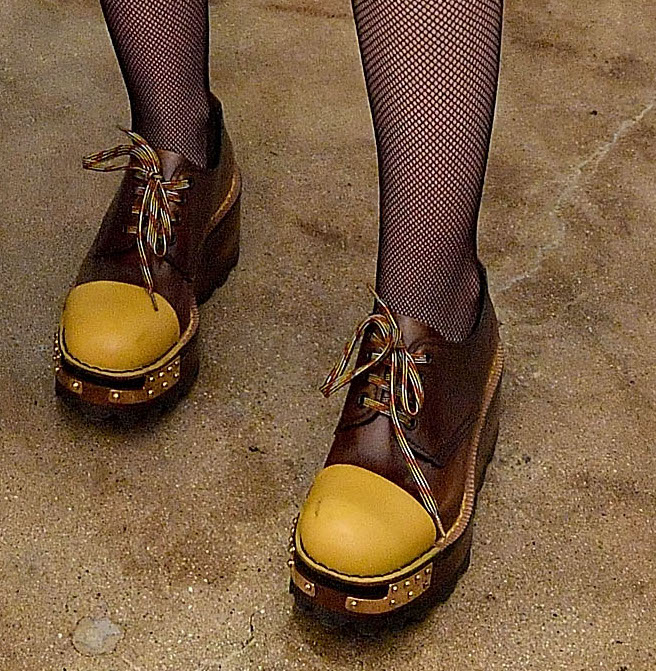 Check out those studs! And the striped laces!
These beauties on Elle's feet are the Prada Platform Oxford which go for $1,100 at Nordstrom. But most of us can't afford to drop over $1000 on a pair of shoes when there's rent to pay. So we've scoured the web and found a few dupes that might just strike your retro-Oxford fancy.
Dr. Martens has a lot of great look-a-likes to this Prada shoe, but our fave is the 1461 Soft Buck. This pair has that eye-catching pop of color and a chunky sole. And selling for $110, you'll be saving almost $1000 if you opt for this pair over the Pradas. Not bad.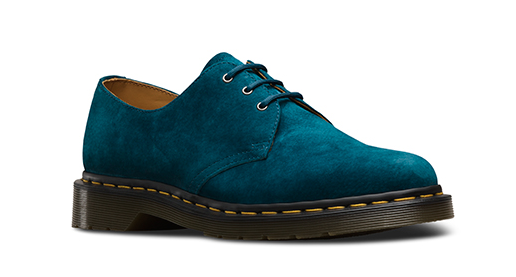 Or if blue suede isn't your thing, check out these Dr. Martens Harvest shoes for $120. In a similar brown leather to the Prada Platforms, this pair can be worn with a variety of different outfits while still adding a hint of vintage to any look.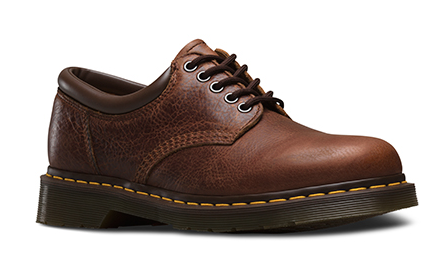 Jeffrey Campbell's Worldz shoe is an edgy take on the Prada Oxfords. These black leather platforms with caged toe detail are more vintage '90s than '70s, but the subtlety of the color and metal accent means that they could work with any ensemble. These go for $155.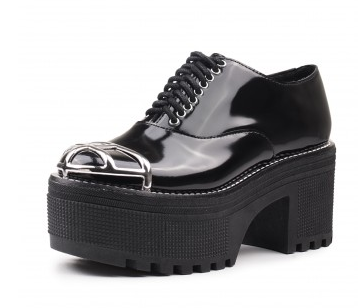 But if you're all about the mustard, try out these Cole Haan 'ZeroGrand' Oxford sneakers. Mustard is a hard color to shop for when it comes to footwear, but these suede perforated sneaks might be what you're looking for. They don't yearn for psychedelic bell bottoms like Fanning's shoes do, but paired with jeans and a rust colored sweater, these mustard babies might be the perfect ~condiment~ for your outfit. Buy them here for $200.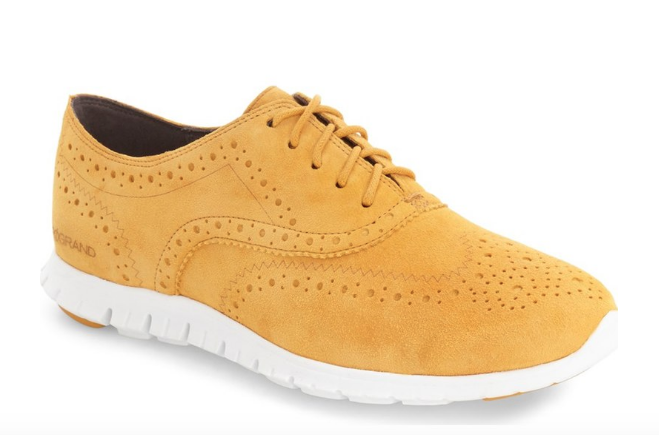 And when in doubt – DIY! Try to find some Oxfords at your local thrift store and pic up some yellow fabric and metal accents at any craft or fabric store. You might surprise yourself with your cobbling skills. And hey, you could create something so original that Elle Fanning will want to wear your shoes to her next outing!
~ Anything is possible! ~