Elle Fanning showed up to the Met Gala after-party in a short unicorn dress
There's fashion that makes our jaws drop. Fashion that makes our hearts stop. There's even fashion that makes us giddy with happiness, because come on, sometimes a good outfit feels like it exists out of a dream! Elle Fanning's Met Gala Marc Jacobs after-party look is a case of the latter. A dress so simple, so sweet, so dreamy, that we're envious we don't have it for ourselves.
The actress looks like a grownup unicorn princess, thanks to a peachy slip with some incredible details. The only thing sweeter than this dress is Elle herself!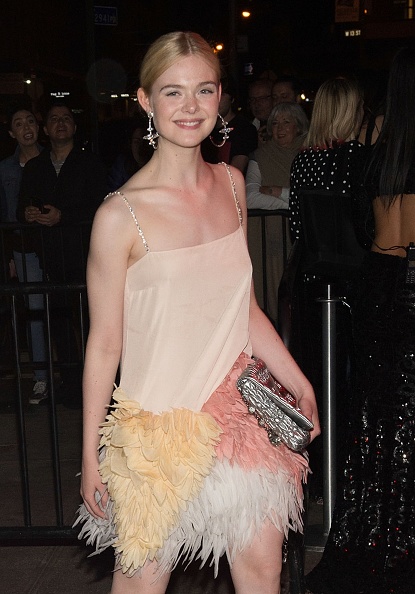 Amidst our obsession with everything unicorn, this dress feels appropriate — but also refreshing. The simple mini dress has beaded straps and cotton candy-colored feathers at the bottom hem. That in itself is enough for us to love it. But the light peach color of the dress, paired with Elle's textured silver bag and embellished silver hoops, is really helping our obsession. She looks sweet but romantic, playful yet still grown up.
And in a dress like that, how can you not have the most magical night ever?!
https://www.instagram.com/p/BTmbiwtBDu4
One of our favorite parts of this look has to be her shoes! These Cinderella-like slippers are giving us life with their bejeweled toes. This whole ensemble is the perfect mix of flirty and fun. We hope Elle loved it as much as we do!