Elle Fanning is a psychedelic punk alien in her new movie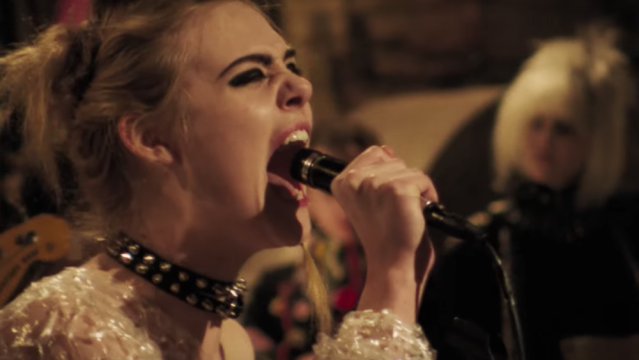 A normal girl next door Elle Fanning is not. Well, at least she isn't in her latest cinematic venture. In the How to Talk to Girls at Parties trailer, we see that Elle Fanning's character is anything but ordinary. In fact, she's out of this world — literally and figuratively speaking.
Based on a short story of the same name — penned by fantasy laureate Neil Gaiman, no less — How to Talk to Girls at Parties tells the story of a group of teenage punk rock wannabes who one day decide to sneak out in the middle of the night to meet girls, only to inadvertently crash a party packed with gorgeous yet bizarre humans. "They must be from California," one the boys conclude. But they soon find out that they're not humans; they're creatures from another planet only making a pit stop on Earth to complete a rite of passage.
Enn (Alex Sharp) breaks away from his friend group and meets Zan (Elle Fanning), and the two hit it off instantly.
They fall in love, engage in an "incomplete sexual activity," and embark on an adventure all over 1970s London. But when it's time for Zan to return to her home planet, she decides that she wants to be a punk rocker like Enn instead, and a grand punks vs. aliens showdown ensues.
https://www.youtube.com/watch?v=nWzHaRM8jeo?feature=oembed
How to Talk to Girls at Parties also stars Nicole Kidman, who plays Queen Boadicea, leader of Zan's alien gang, along with Ruth Wilson (The Affair), Matt Lucas (Alice in Wonderland), Alice Sanders, and Natalie Lauren. It's directed by John Cameron Mitchell — the genius behind Hedwig and the Angry Inch — and produced by A24, the studio that brought us the likes of Lady Bird, The Disaster Artist, and Moonlight.
No word on the exact release date yet, but How to Talk to Girls at Parties opens sometime this summer. We can't wait to see Elle Fanning in all her psychedelic punk alien glory!