Elle Fanning's Halloween costume confirms what we always knew about her
I think most of us already knew that 20th Century Women actress, Elle Fanning, has some sort of magical powers. The fact that she dressed up as a fairy princess only confirms that theory. Her love of baby pink, fluffy tulle, and glitter has finally been packed into one outfit, and it's perfect.
The teen actress wore a strapless, full-length, pink tulle gown paired with white fairy wings and a flower crown. She posted the Polaroid photo below on her Instagram yesterday, simply captioning it with the pink flower emoji.
Fanning looks like she's getting ready to make her debut in a ballet. So poised. So serious about her role.
Kirsten Dunst, actress and the director of the upcoming film The Bell Jar (starring Elle's sister, Dakota Fanning) also captured an image of the fairy princess out and about, captioning the photo "My Elle princess." The two actresses, along with Nicole Kidman, star in the upcoming 2017 remake of The Beguiled, a Sofia Coppola film.
In Dunst's photo, we can see Fanning brought a small, sparkled white purse to keep her fairy dust and wand safe.
Of course, fans of Fanning are absolutely loving the costume choice. We agree with Instagram user, the_sign_dmh. She does look like a grown up Tink!

And this fan does not lie when they say Fanning looks like a princess.

Actually, everyone in the comments is pretty spot on.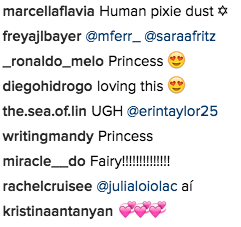 Elle Fanning realized her true form this Halloween, and all we have to say is, it's about time! It must have been hard keeping the "so-called secret" that she is a fairy from her fans. But now the rest of us sprites have been inspired to take to the streets and use our magic for good!