She may play Sleeping Beauty, but Elle Fanning was ~clearly~ channeling Cinderella at the 2017 Met Gala
Anyone else having a case of fairytale déjà vu? 'Cause we most certainly are! That's because when Elle Fanning swept across the 2017 Met Gala's red carpet, the sprightly actress took our breath away with her powdery blue confection. A powdery blue confection that, if you look closely, might remind you of one princess' dress in particular. As in, Cinderella's.
And while Elle clearly ~nailed it~ in this look, it got us thinking: It's funny she'd choose to channel everyone's favorite glass-slippered princess instead of, you know, her Maleficent alter ego Sleeping Beauty.
But hey, we'll give the girl a break. She's already played Princess Aurora on-screen, so naturally, it was time for the regal starlet to give another princess' style a try!
As for her Cinderella-inspired ensemble last night, the 19-year-old selected an ethereal Miu Miu design for the occasion. And while it might not have been exactly "on-theme," there's no denying it was perfectly on-point.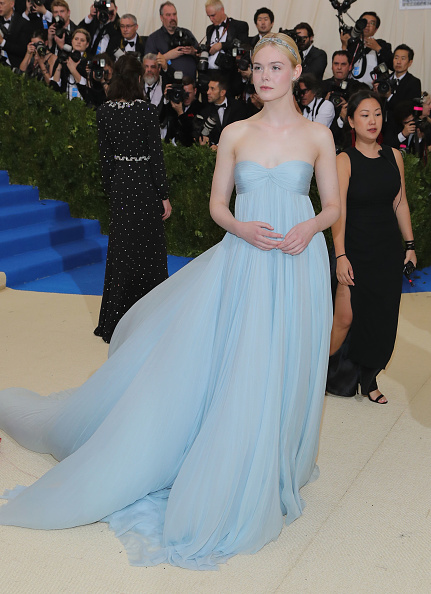 The delicate, draped design added a much-needed pinch of minimalism to the always-eccentric Met Gala crowd. Because with a poised empire waistline that cascaded into a lengthy train, this dress didn't need any added pizzazz to make it a perfect-10.
Blowing in the wind, it looked more like a puffy dollop of cotton candy than an actual dress!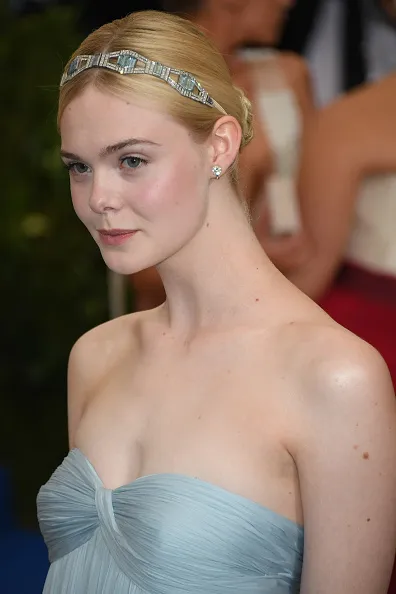 To top it all off, Elle swept her long blonde locks into a neat bun and slipped on a princess-worthy Fred Leighton art-deco headband comprised of aquamarine and diamonds. Oh la la!
Okay, so we know the live-action Cinderella already happened (and Lily James was phenomenal). But should the world ever need another Cinderella for any reason, we name Elle as out top choice!