Elizabeth Warren had a mic drop moment about believing women at last night's Democratic debate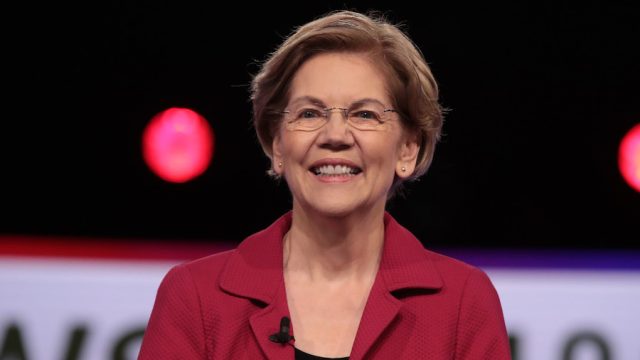 At last night's Democratic debate, Elizabeth Warren shared her story of pregnancy discrimination, then stood by the testimonies of other women. Warren explained that she didn't have a union or federal law to protect her rights when she was working as a special education teacher and became pregnant, so she lost her teaching job. Still, Warren argued, she didn't experience the inappropriate comments that one of Michael Bloomberg's former employees allegedly had to endure. And Warren's response to moderator Gayle King's request for evidence of the incident has so many people cheering.
"At least I didn't have a boss who said to me, 'Kill it,' the way that Mayor Bloomberg is alleged to have said to one of his pregnant employees, Warren said. "People want a chance to hear from the women who have worked for Mayor Bloomberg.
Bloomberg denied this claim at the debate, as he did in 1997 when the lawsuit regarding the alleged comment was filed. "I never said that, and for the record, if she was a teacher in New York City, she would never have had that problem. We treated our teachers the right way, and the unions will tell you exactly that," Bloomberg said last night.
Following this interaction, King asked Warren to provide evidence that Bloomberg had made this comment to his pregnant employee.
Warren gladly offered up her evidence in a quick reply: "Her words," she said.
After the debate, interviewers continued to press Warren for evidence. According to The New York Times, MSNBC's Chris Matthews asked her why she believed Bloomberg had made the comment after he denied saying it. Again, Warren didn't hesitate.
"A pregnant employee sure said he did," she said. "Why shouldn't I believe her?"
Matthews reportedly continued to press Warren to say that she believed Bloomberg was lying. "I believe the woman, which means he's not telling the truth," Warren said. But Matthews, not satisfied with that answer, continued.
"Why would he lie?" Matthews asked. "Why would she lie?" Warren responded.
false
So many people were cheering on Twitter as Warren showed her support for women who speak out about harassment in the workplace—and more largely, her support of believing women who speak out about sexual abuse in general.
false
https://twitter.com/udfredirect/status/1232481334645248001
While Warren stands by the woman's claims from afar, there are people who have also claimed to witness the conversation up close. Earlier this month, former coworker David Zielenziger told The Washington Post that he remembers overhearing the conversation in question.
"I remember she had been telling some of her girlfriends that she was pregnant, he said. "And Mike came out and I remember he said, 'Are you going to kill it?' And that stopped everything. And I couldn't believe it.
Zielenziger also explained that although that comment was shocking, inappropriate workplace behavior was not uncommon from Bloomberg. "He talked kind of crudely about women all the time," he said.
We, like Warren, believe and stand by the women who have made claims against Bloomberg and all those who have faced pregnancy discrimination at work or anywhere.