Elizabeth Olsen says politics have affected how she approaches acting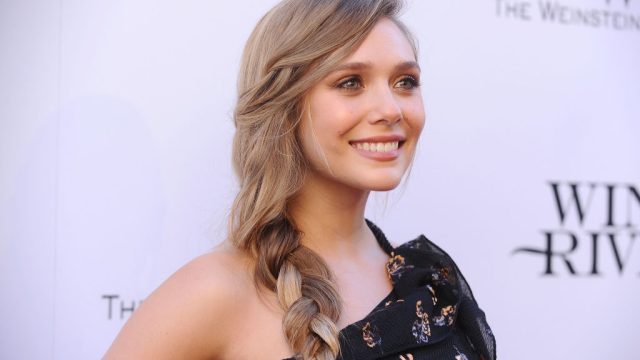 What's not to love about Elizabeth Olsen? In the last handful of years, the actress has carved out an impressive and exciting career for herself. Olsen had two new movies come out this August: Wind River and Ingrid Goes West. Plus, she seriously knows how to rock a pantsuit-dress-cape. How does she do it?!
Elizabeth Olsen opened up about how politics have affected her acting and the roles she has chosen.
In a recent Vanity Fair profile, Olsen discussed everything from her enviable success to how she chooses her roles. She also addressed how she can't ignore politics, even when playing a character.
"I think you just want to represent women well, period, and I felt that way before the election, and I feel that way now. There's a new meaning to it now."
Well said. The current political climate is on many of our minds, but as an actor, being conscious of it is key.
We are all in for representing women well on screen.
And represent she does. Olsen stars in Ingrid Goes West with Aubrey Plaza. The film explores the idea of social media obsession.
https://www.instagram.com/p/BXGq7h_gMbC
Wind River reunites Olsen with her Avengers co-star Jeremy Renner. She plays an FBI agent to Renner's game tracker. For the role, Olsen volunteered at a Rape Treatment Center, which she still does every week.
"I trained to [become a volunteer] and then did Wind River, and it had a deeper meaning in some way because I've never been assaulted, I've never had to personally deal with anything like that."
Olsen said that politics can also change the mood on set. She's one of the big names in the Avengers franchise and said that while making the most recent film, the majority of the actors were glued to their phones throughout filming, following current events. At this point, we all know it is hard to proceed without constantly checking back on what is going on in the country.
"I think we were trying to watch, live-streaming [one of the James Comey hearings]. They are literally saying, 'Rolling,' and we were supposed to be dealing with some equipment, and [Don] Cheadle and [Chris] Evans and Scarlett [Johansson] and me and [Paul] Bettany and [Mark] Ruffalo were all like, streaming."
We love that Olsen can speak out about it, and also integrate it into her craft.
Olsen is grounded, talented, and smart. We are so happy she has a strong voice and is willing to use it.
https://www.instagram.com/p/BXkpFcBAF7W
Wind River and Ingrid Goes West are both out now. Olsen is also now, finally, on Instagram! Definitely see her films (and follow her) if you haven't already.