Pink is not enough for Elizabeth Olsen, so she rocked glittering millennial pink and YAAAAS
Elizabeth Olsen definitely made a statement on the red carpet! At the 70th Annual Cannes Film Festival she rocked a stunning glittering pink dress. It's one thing to wear a deep v-neck dress with draped sleeves all in pink. Elizabeth kicked it up another notch and donned glittery pink sequins. And she owned it. Wearing a deep v-neck dress can be super intimidating. Especially when there are a load of cameras on you. But it adds a bit of drama to the fun and flirty floor length dress. It's perfect for the beginning of summer in France!
She made the appearance in the glittery pink Miu Miu gown for the screening of her new film Wind River. The film follows Elizabeth as an FBI agent who teams with the town's veteran game tracker to investigate a murder that occurred on a Native American reservation. She was also joined by co-star Jeremy Renner and director Taylor Sheridan. The film doesn't make its debut in the United States until August, so we'll have to wait to see what some are already calling Oscar bait.
Elizabeth Olsen definitely shined in this glittery dress!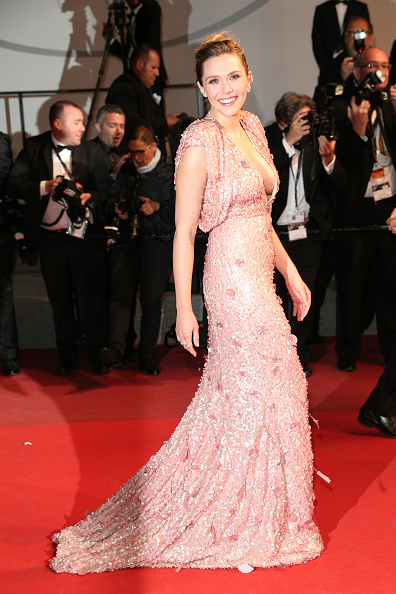 This gown is stunning from all angles.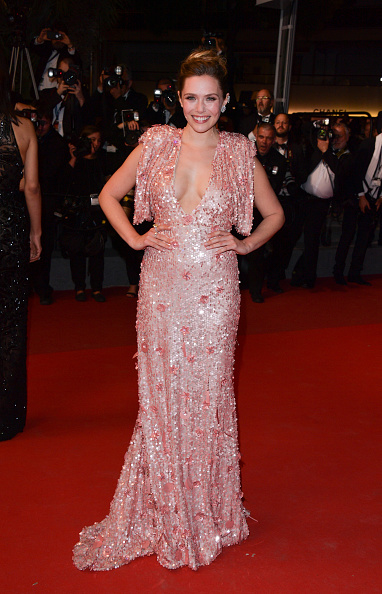 It's cool to see Elizabeth and so many other actresses show off their fashion prowess as well as their acting chops. Wish you were in France and can't get enough of Cannes Film Festival fashion? Luckily their Twitter is full of great pictures of your favorite celebrities attending the festival!