Elisabeth Moss clarifies that "The Handmaid's Tale" is feminist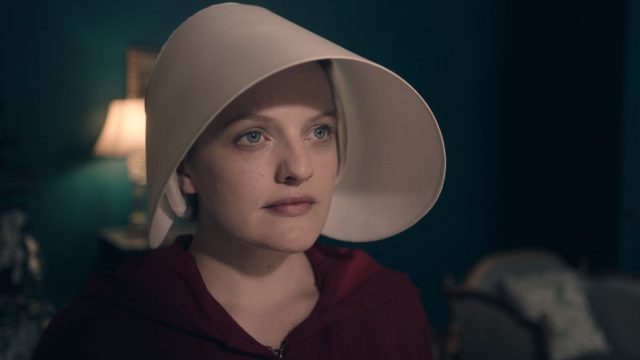 Okay, everyone. We can finally breathe a sigh of relief. Elizabeth Moss clarified her comments about whether her new series, The Handmaids Tale, is feminist or not. She's finally explaining her earlier remarks about the show, and we're super relieved.
Moss spoke at the Tribeca Film Festival about the show, saying, "For me, it's not a feminist story. It is a human story because women's rights are human rights." Everybody was left scratching their heads over this. The show has such overtly feminist themes that the earlier remarks just didn't make sense. Fortunately, the actress is clearing up her meaning in an interview with Huffington Post, and we couldn't agree with her more.
"I'm not sure that that was exactly what I was trying to say," Moss explained. "I wanted to say ― and I'll just say it right here, right now ― OBVIOUSLY, all caps, it is a feminist work. It is a feminist show.
The Hulu original is based on the 1983 Margaret Atwood novel of the same name. It's about a near-dystopian future, in which women's civic and reproductive rights have been stripped. The women are held hostages of the state and forced into servitude. The fertile women, the handmaids, are forced to endure ongoing rape and imprisonment to propagate the population of the theocratic government of Gilead.
In light of the content of the show, everybody was really confused about the cast's denial of its feminist underpinnings before Moss recently cleared the air. A self-proclaimed feminist herself, she wants viewers to understand the show "is first and foremost feminist."
Moss explains her misstep by suggesting she omitted one very important word. She claims,
"I think what happened was that I left out a very, very important four-letter word, which is 'also.' She went on to say of her Handmaid's Tale comments, "It's also a humanist tale. That's all. Women's rights are human rights."
We're really grateful for Elizabeth Moss's efforts to clear the air.