If you want to be Eleven from "Stranger Things" for Halloween, here's a fun and easy makeup tutorial
If there is anything in the world that truly makes me believe in the oneness of all humanity, it is a banging Netflix original series. Never are we more united than in the face of good 10 hours of TV we can watch all in one go. I, like everyone else in the whole world, watched and loved Stranger Things, and watched and loved the character of Eleven. Little girls being super powerful just is great — that's another universal truth. Today, I'm going to show you how to dress up as her for Halloween, looking super great and "with it," but also barely requiring any effort at all.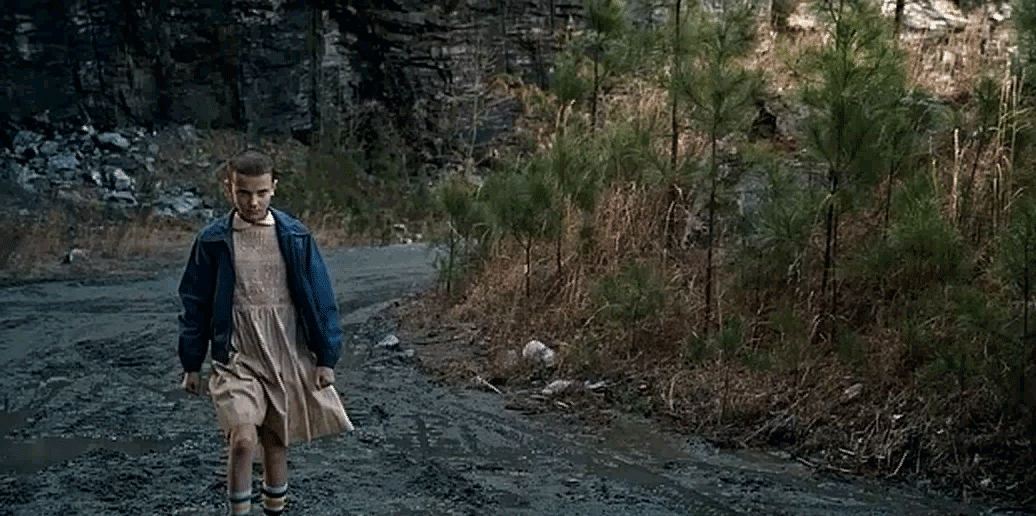 You will need:
A pale pink dress,  plus optional other clothing items (read on! Suspense!).
A blonde wig, or, if you are me, poorly-dyed blonde hair which looks like a wig, plus a curling iron or tong.
Your foundation of choice.
Fake dirt, aka, eyeshadows.
Fake undereye bags, aka, eyeshadows.
Fake blood.
First things first, do your usual base.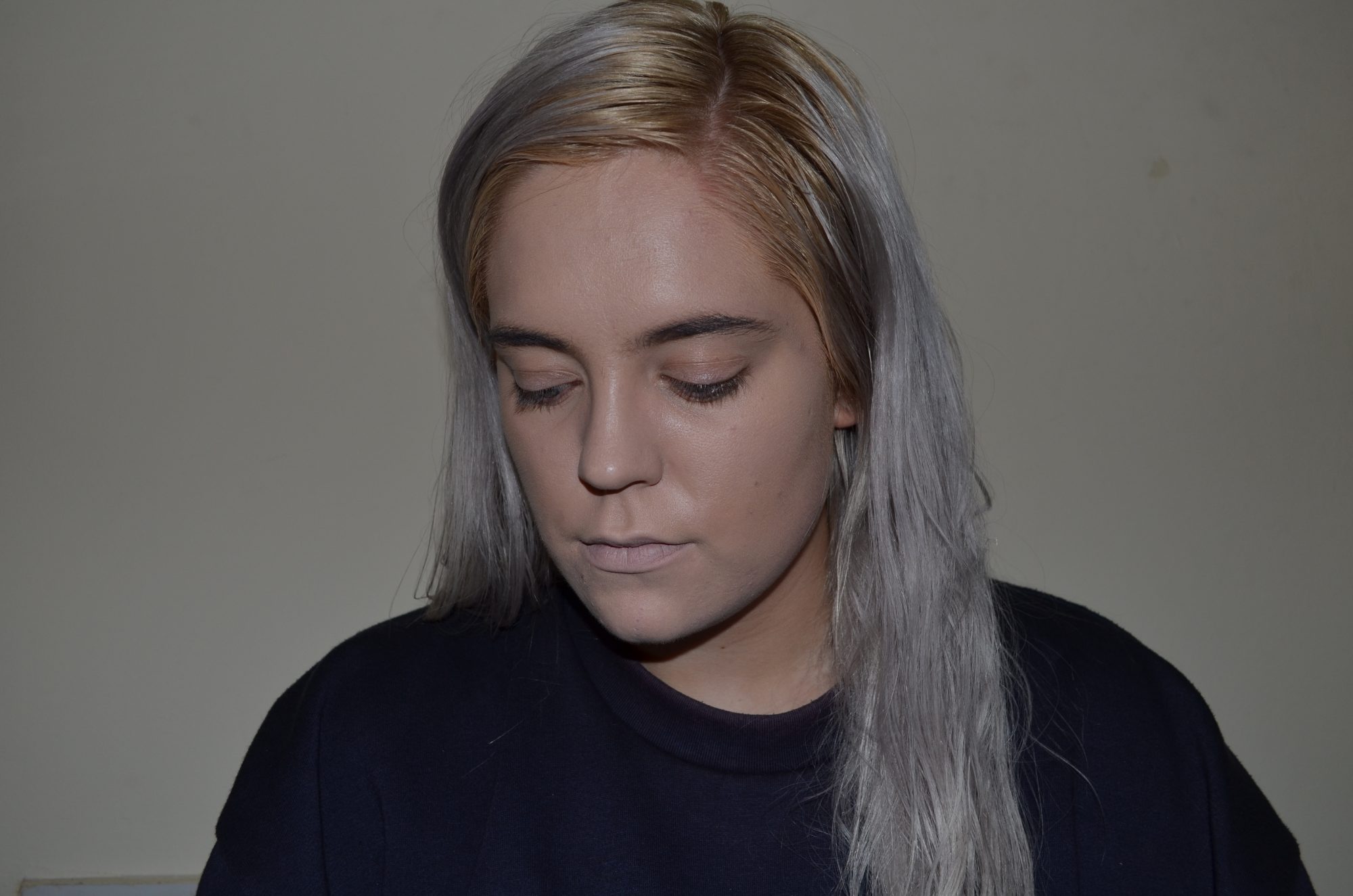 If you have perfect childlike skin, you don't need anything, but you basically want to create a semi-blank canvas. I used the L'Oreal Infallible Pro Matte ($12.99 from Walgreens), which I have in a shade too light for my skin. I used it sort of as a concealer rather than all-over. I also put this lightly over my lips, to blot out their natural color and suggest post psychokinesis-induced frailness. I'd also recommend a comb of brow gel, just to make things look natural, but neat.
Ta-Dah! Face, plus foundation, plus brow gel.
Next for some dirt.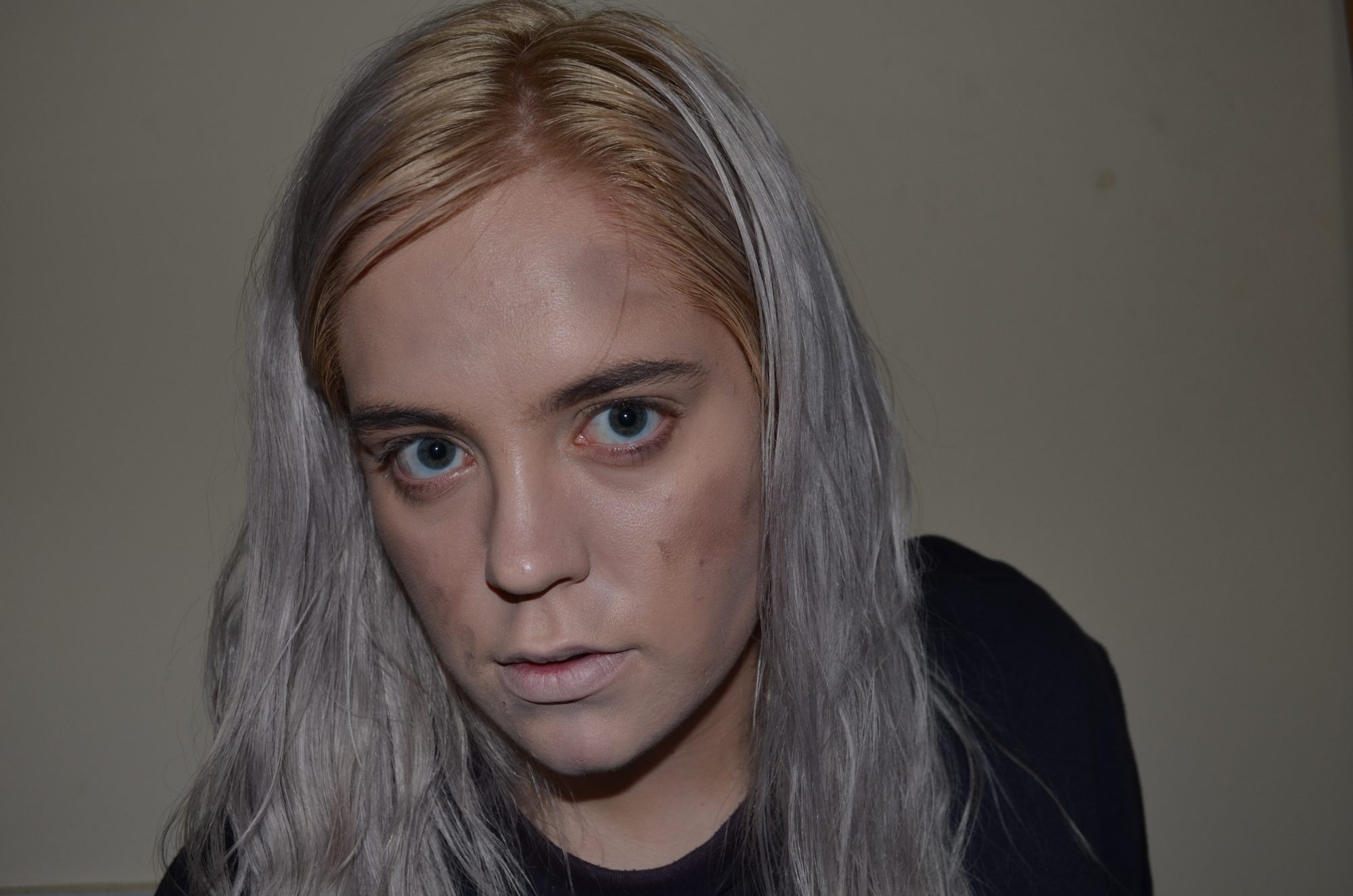 I used matte brown shades from the LORAC Pro Palette ($44 from Ulta) to add smudges of woodland over my face. I think fingers work best for this, as they look more smeary and less perfectly blended.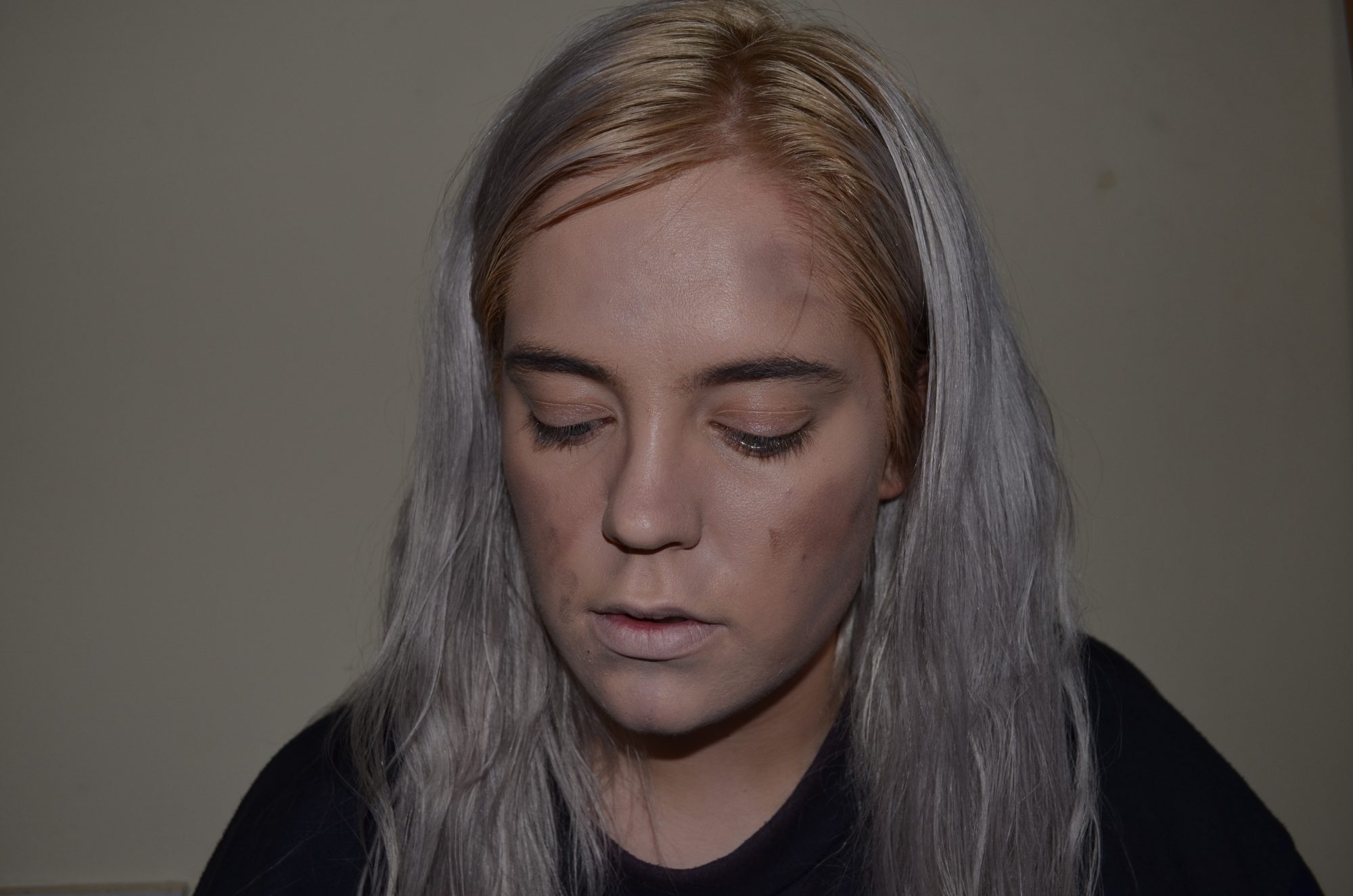 Dirt: done.
For your under eye bags (tired from all your otherworldly powers) use more matte shades, preferably cool taupe-y, grayish-browns.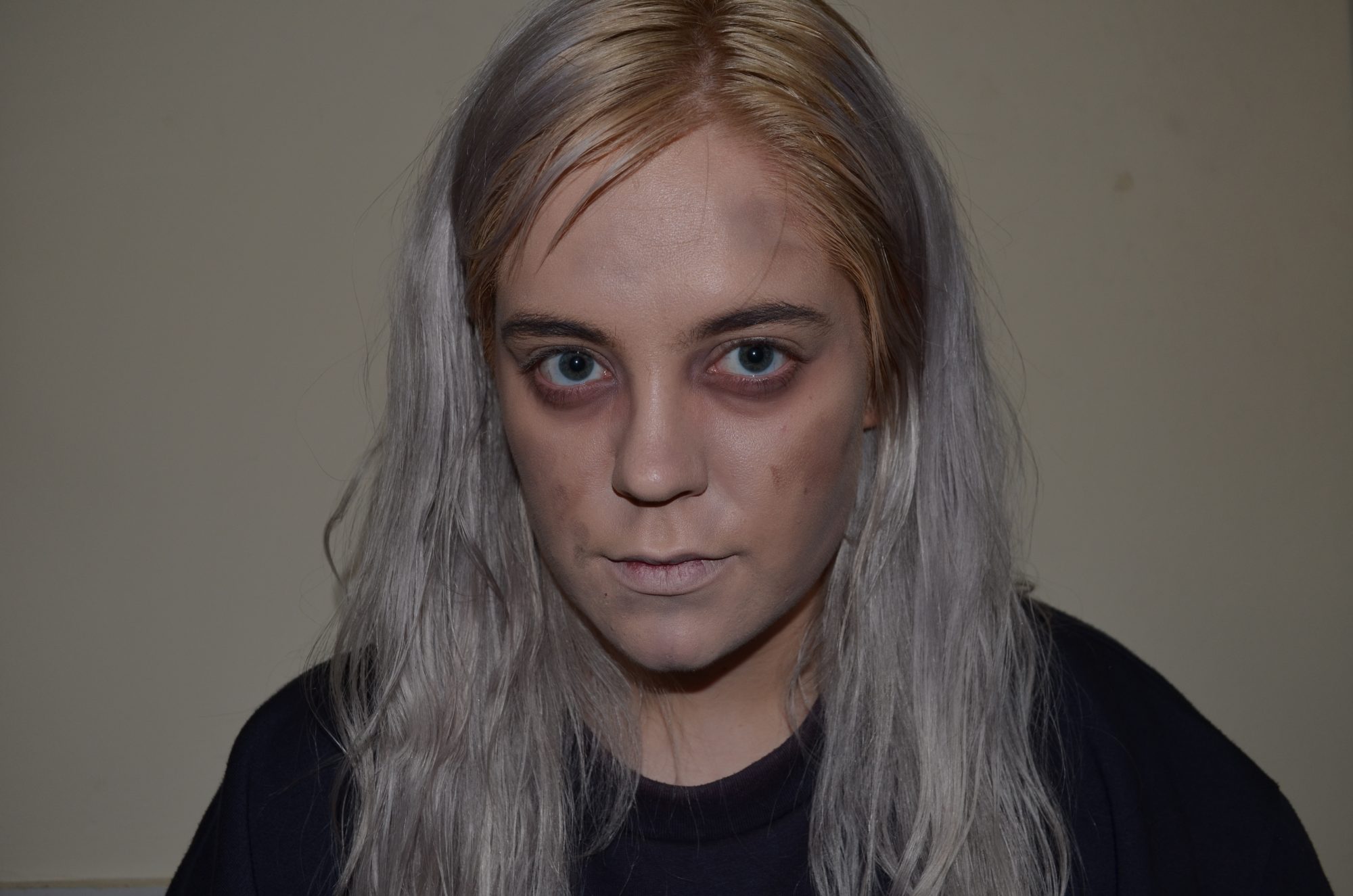 Mauve from the same LORAC palette is a perfect color for fake eyeshadows, as it has that hint of irritated pink. Focus on the indent line under your eye and shade inwards to create the illusion of a bag shape.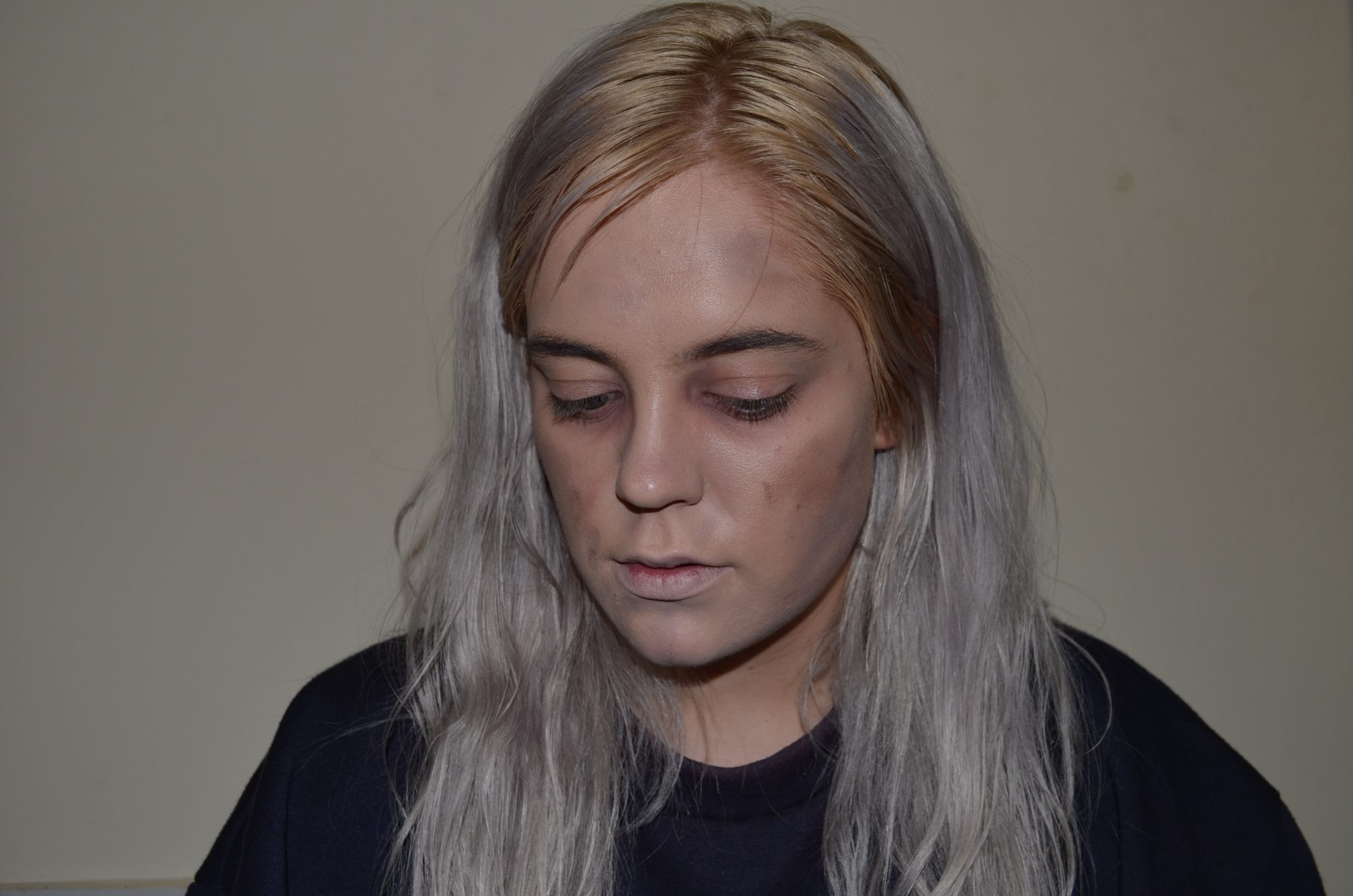 If you want to look kind of pretty, here is where you'd want to add a hint of blush or mascara. However, I'm committing. I look pretty every day of the year (HA!) so might as well take the Halloween opportunity to look just plain frightening.
For your just-done-some-badass-magic nosebleed, your best bet is a tube of fake blood.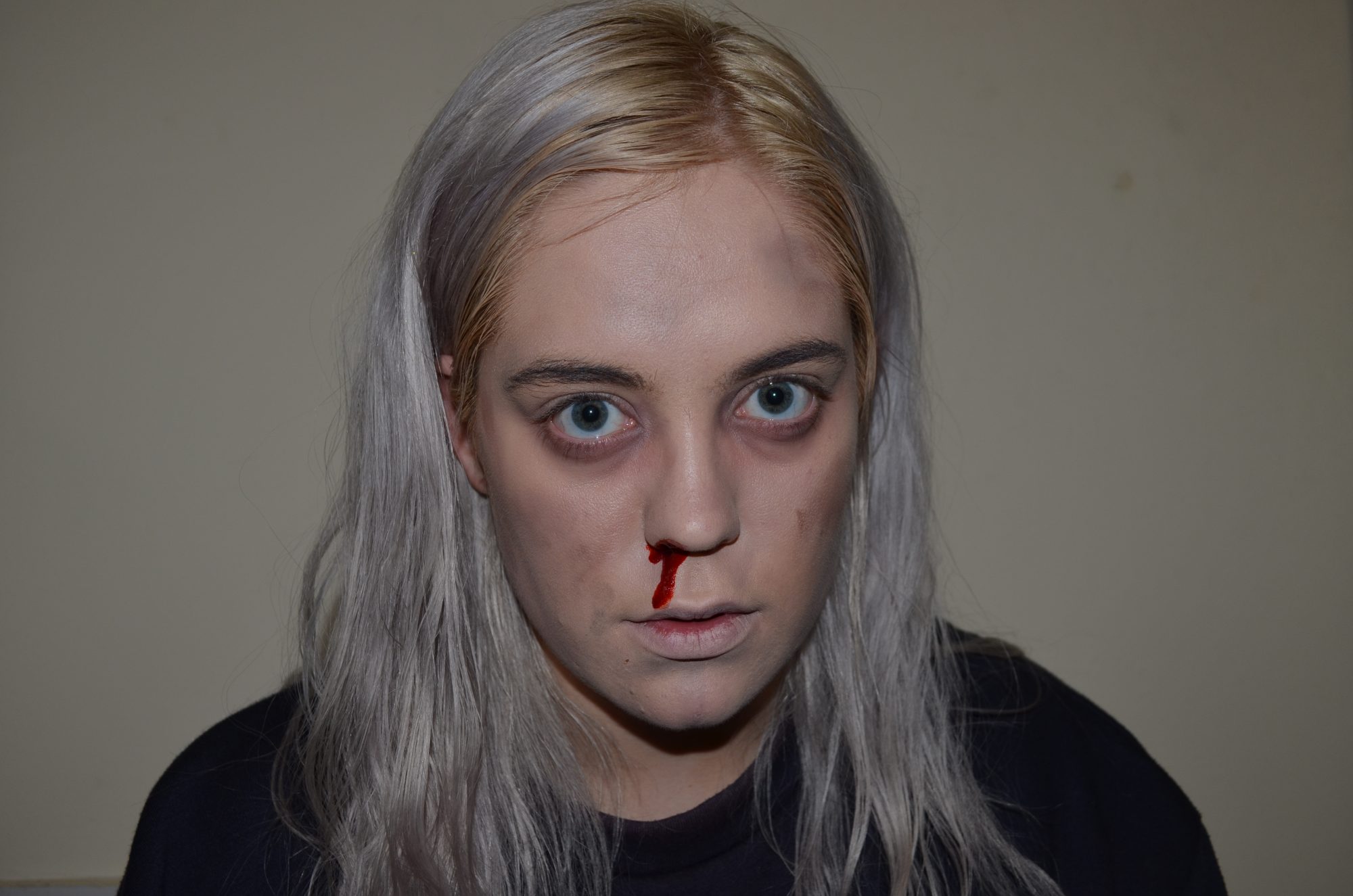 If you don't have one, a dark red lip gloss (like LA Girl Glazed Lip Paint in Tempt, $3.49 at Walgreens) would probably do the job. I simply tilt my head back, squeeze some "blood" into my nostril, then look back ahead. The blood should drip down in a creepily realistic way.
Unsurprisingly, fake blood inside your nostril isn't a very comfortable sensation. Luckily, it's Halloween so I imagine you'll be having a few beverages and the sensation will be alleviated.
For a true cheap wig look, you either need a genuine cheap wig, or hair bleached to within an inch of its life.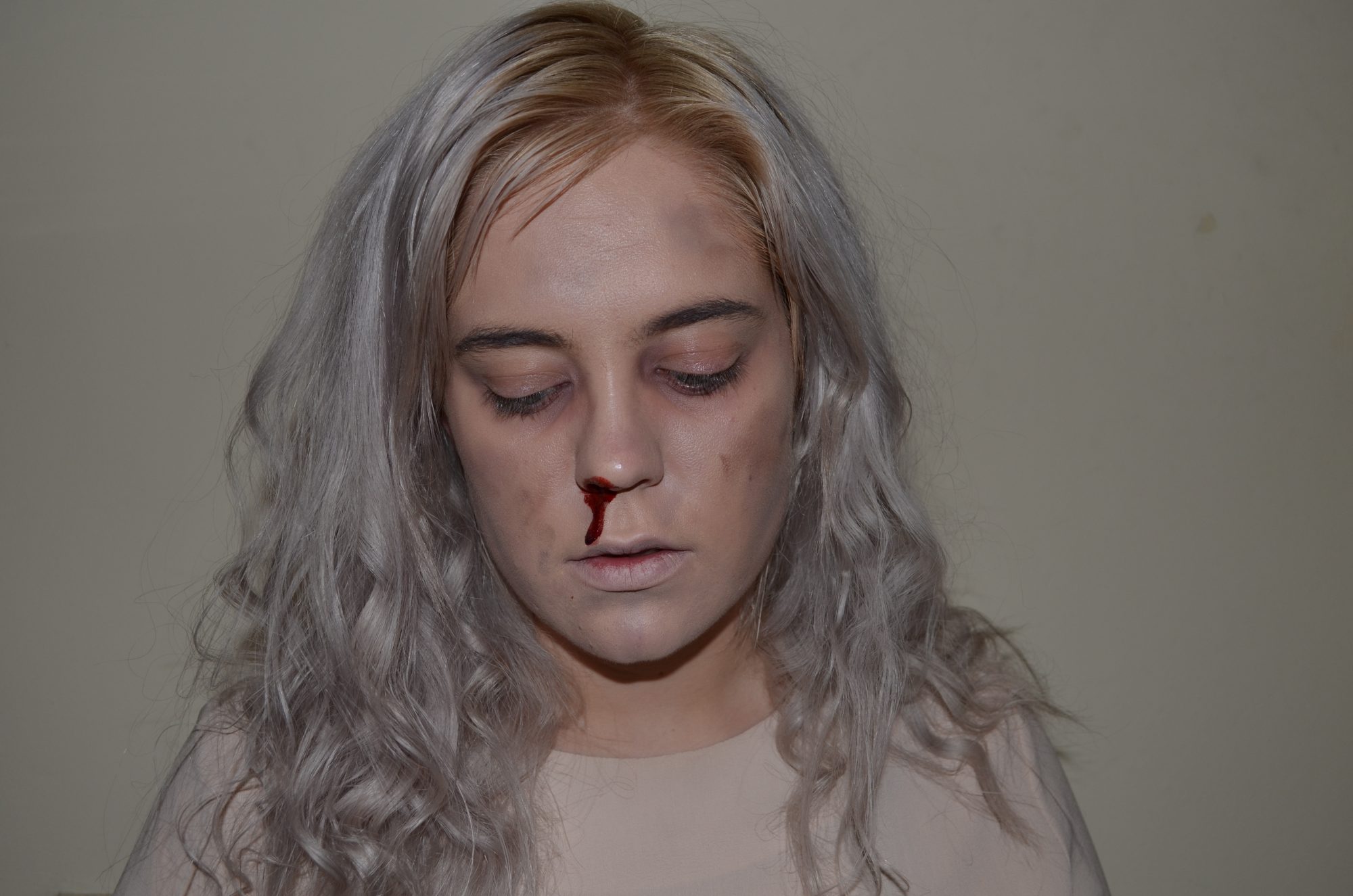 I'm not trying to sway you either way; I'm just saying, blondes do have a lot of fun. You'll want true 1983 curly volume, so your best bet is a thin, barrelled tong/curling iron.
Just do bits at random — really, you've been through a lot of fighting the government, so your hair doesn't have to be too neat.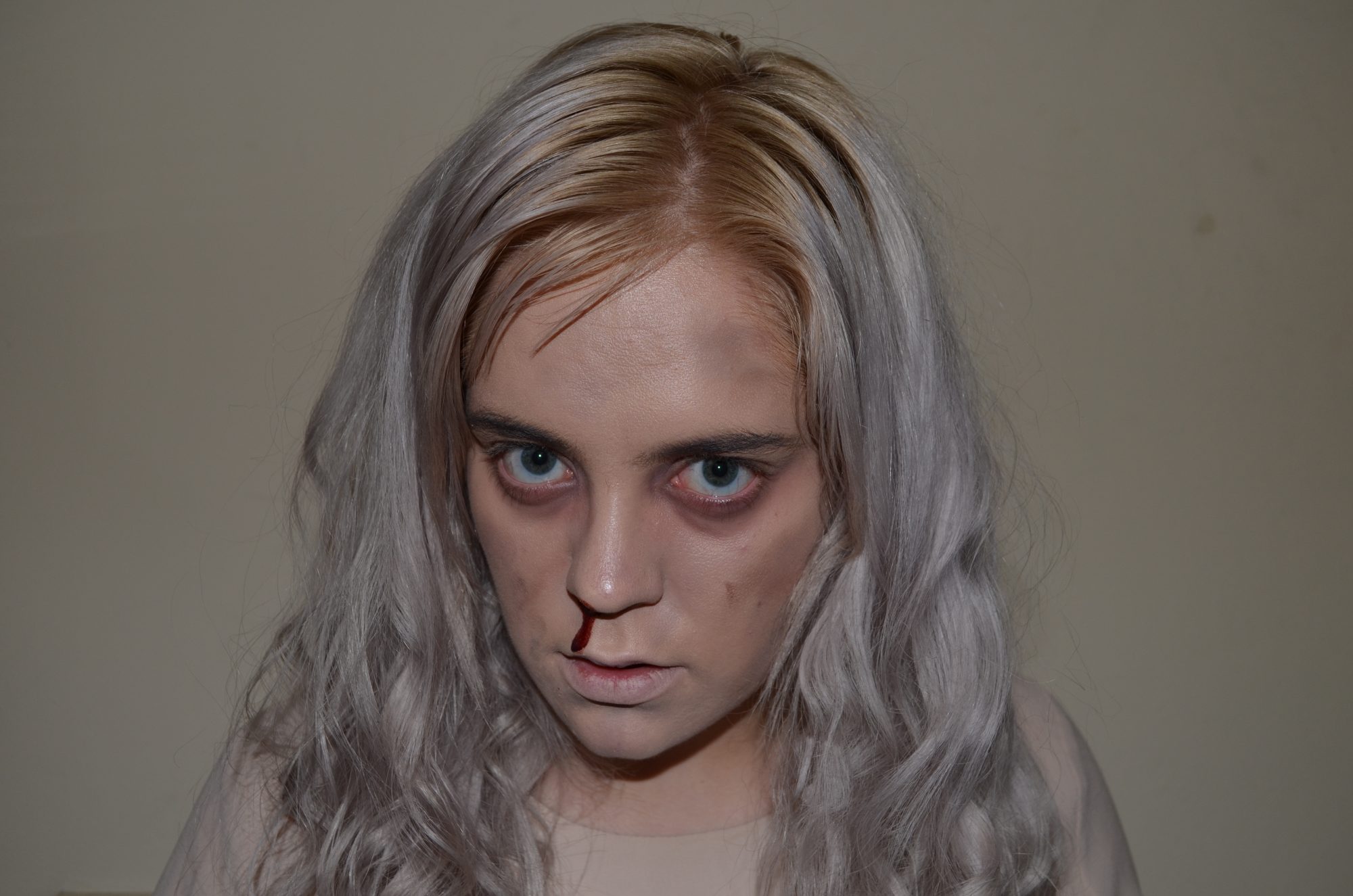 Now put on your pale pink dress.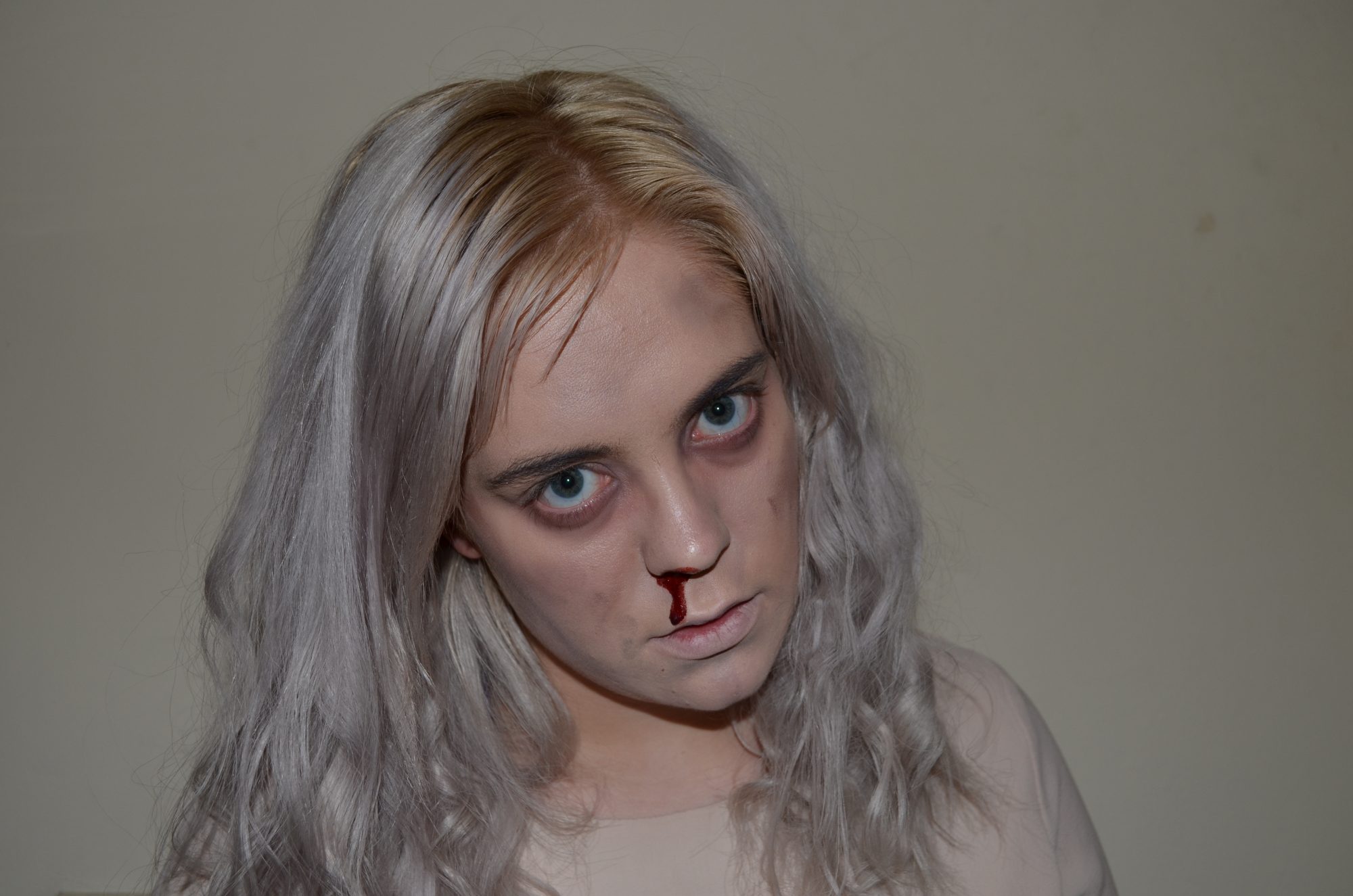 Mine is from The Whitepepper and is a great childish smock shape. For the sake of cheapness, I reckon you could probably find something fairly suitable at the thrift store, especially if you're wearing it for one Halloween night only.
For the rest of your outfit, you'll want sports socks, a navy jacket and some sneakers. To complete the look, do a lot of tilting your head down and staring ominously into the middle distance. And try not to talk too much.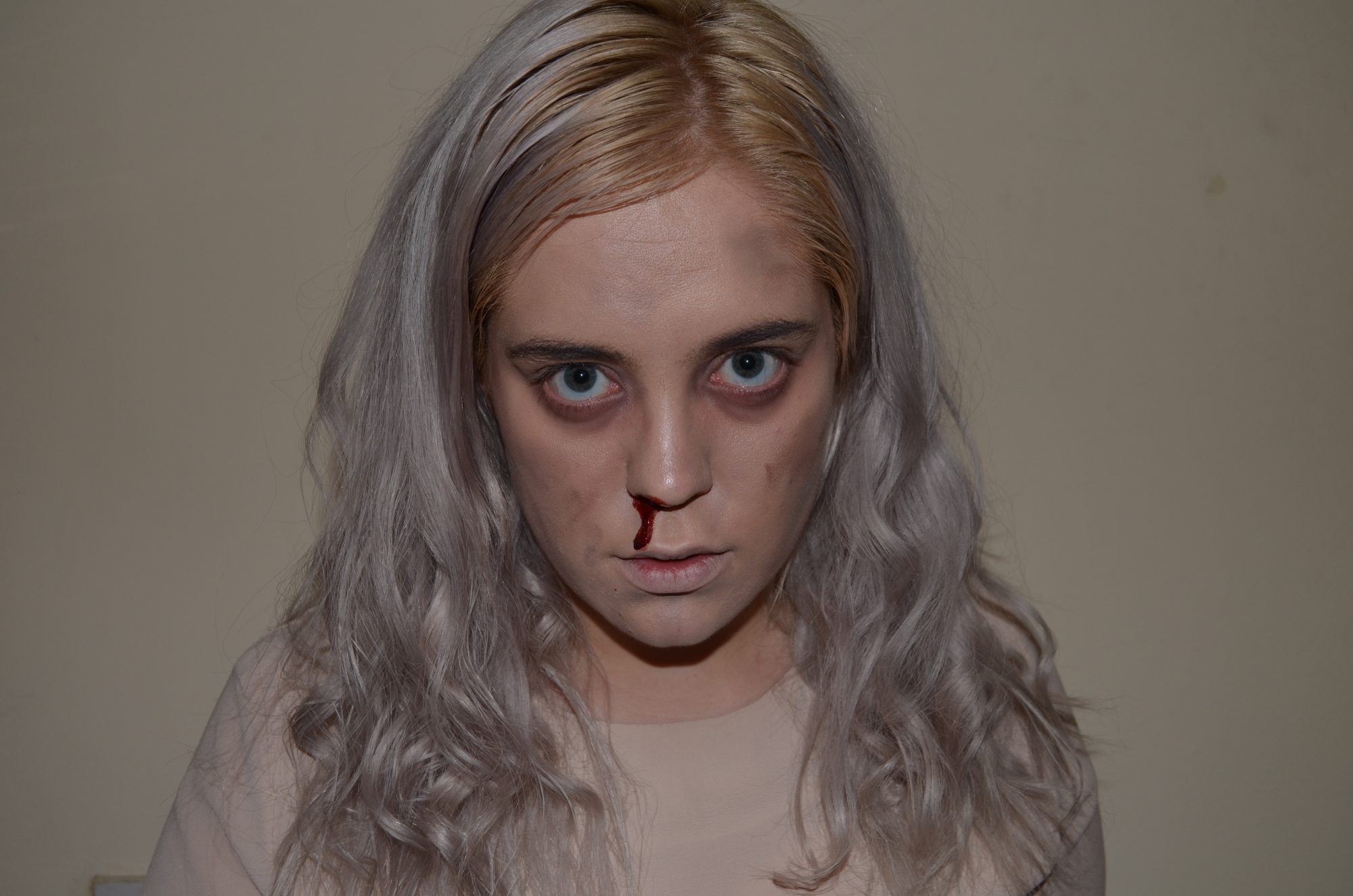 A box of Eggos are optional.