And now here's an elderly man serenading his wife with a love song, in case you wanted your heart to explode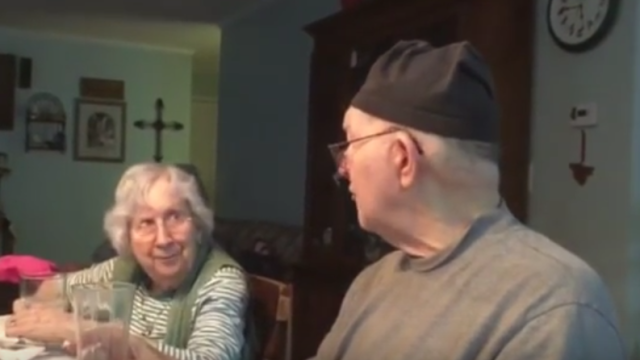 Okay, get ready to break out the Kleenex. Here's an elderly man serenading his wife with a love song, reported Country Living, in case you wanted your heart to explode. (We're still piecing ours back together.)
Yes, Valentine's Day is coming up and everything, but it's the daily expressions of love that show someone you care, right? Running an errand for them, surprising them with their favorite dinner, writing them notes (not just sending them texts), etc. But ~singing~?! That's a higher level altogether!
The couple in question, Jim and Talma Turley, lives in Hurricane, West Virginia, reported Country Living. They have six children, 13 grandchildren, and 15 great-grandchildren.
One of their children, Martha Oxley, posted the serenading video on YouTube, and we're so glad she did.
https://www.youtube.com/watch?v=auWyRX06A-M?feature=oembed
"My parents, Jim and Talma Turley, have the greatest love story," Oxley wrote on YouTube. "Dad randomly sings love songs to mom all the time; my siblings and I grew up watching Dad love on Mom, and she loved him right back! They are 83 and 82, respectively, and were married in 1952."
Okay, our hearts just exploded again. What about yours?! While we piece our hearts together (again), we're setting some new #relationshipgoals and #truelovegoals, too.