Everything I need to know, I learned from Jane Villanueva on "Jane the Virgin"
Jane the Virgin is my absolute favorite show. It's the perfect combination of all of the things that I love: diversity, strong feminism, humor, and so much telenovela. I grew up watching soap operas so I am always here for intense drama — and Jane does that well. But most importantly, Jane herself solidifies the show's amazingness.
Allow me to say that Jane Gloriana Villanueva is one of the best characters to grace our screens in a long, long time. Let us learn from her.
EINTKILF Jane the Virgin
It's okay to be a virgin. 
It might seem like an obvious lesson, but Jane is a virgin (yes, still) and I personally think the way the show handles sex and virginity and promiscuity is just awesome. Jane is a 20-something (24, I think?) who is totally fine saving herself for marriage — even after she's had a child! — and though she deals with temptation, and pressure just like everyone else, she also holds on to the promise she made to herself and to her grandmother.
Though I am in not a person who considered saving herself for marriage, I am a huge fan of taking your time before losing your virginity. I lost my virginity when I was almost 24 years old, and I never felt weird about it, or regretted not having sex when I was younger. I have a really healthy relationship to sex, and my body, and the people I have been with, and I consider myself lucky for that. There are too many young women who are pressured or forced into sex before they are ready, and I love that Jane is able to stick to her guns, no matter what.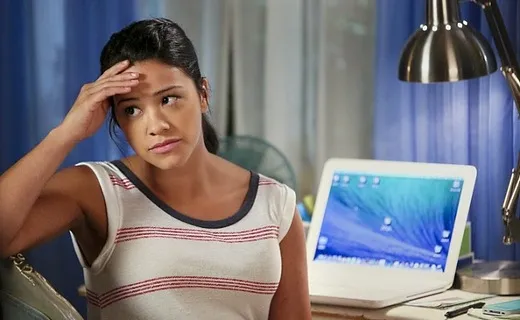 That all being said, her mother (Xiomara) is the total opposite of Jane, and the show really celebrates the differences in the women without making judgments. Jane's best friend and mother are promiscuous and open about their sexuality, and I love seeing that on TV as well.
Follow your heart.
Look, we are only in the middle of season 2, and in no way do I think Jane is done trying to decide who she really loves but that is all okay. I really don't like in TV shows, or in movies, or in REAL LIFE, when we are expected to know who we love and why right off the bat. Jane is young and she has been through a lot, but trying to know if she is in love with her long-term on-and-off again boyfriend, the father of her child, or someone else? Girlfriend, has time to figure that all out.
You learn so much more about love and life as  you get older (I hope I don't offend any young lovers by saying that). I am pretty sure I felt my strongest love when I was 22-24 and if I never feel that again, that's okay. I experience love so differently now, and I followed my heart to right where I am, which is right where I'm supposed to be.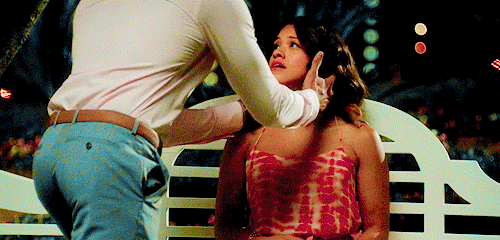 Jane is a pure and wonderful example of following her heart. Yes, she's bounced between loving Rafael and Michael a lot in two seasons, but can you blame her? They are both worthy of her love, at reallllly different times. It is okay to take your time and make your choice.
Be positive.
I am not a lot like Jane because I am not always very positive, but damn if Jane doesn't inspire me to be. If I was accidentally artificially inseminated with a stranger's sperm, I def wouldn't have handled it as well as Jane did. She knew though, that when all was said and done, that this huge, huge accident changed her life in a really positive way. But how else could it be for Jane? She's a shining star of happiness.
Nobody said it was easy.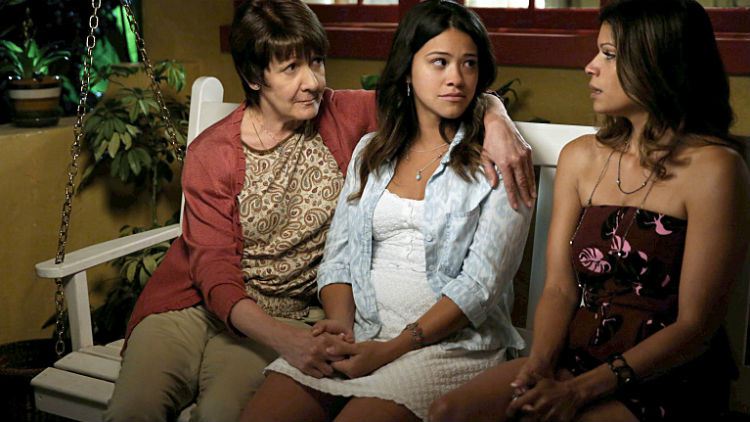 Jane sure does fight for what she wants. and she learned that from her wonderful abuela and her badass mother. All three women on Jane the Virgin are exemplary characters built on strength and feminism, and it is no wonder why I am obsessed with this show. Jane had a tough life. No dad, a young, social mother, a threat of death by sex if she was to lose her virginity before marriage — she put up with a lot of stuff, and handles it very well. In her adult life, as unbelievable as some of the storylines can be, Jane is a true example of how you just have to power through the mess you are given.
Mama knows best.
Okay, no, Xiomara is not always a perfect example of making great choices or anything but the love she has for her daughter is absolutely incredible. Xo and Jane have that kind of Gilmore Girls love that all girls want with their mothers. I love, love, love Xo's character because she is absolutely an incredible mother, but she is also a great friend, a realistic female, and a perfectly flawed human. Jane and Xo's relationship is fantastic.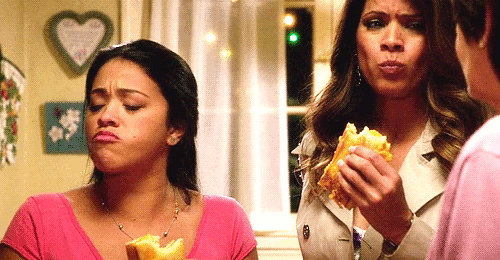 I don't want to leave Abuela out. Alba is very much like Xo — not in personality, but in their perfectly flawed characteristics. Alba's relationship with Jane is as inspiring as Jane's relationship to her mother. Family is everything.
Dance cures all.
Okay so I heard that Gina Rodriguez was a professional dancer before she was an actress, and if you follow her on Instagram or watch Jane the Virgin, you can probably tell. Her little happy dances on the show, even when she was SUPER PREGNANT, were really very good! And everyone knows that shakin' your thing can really fix a problem.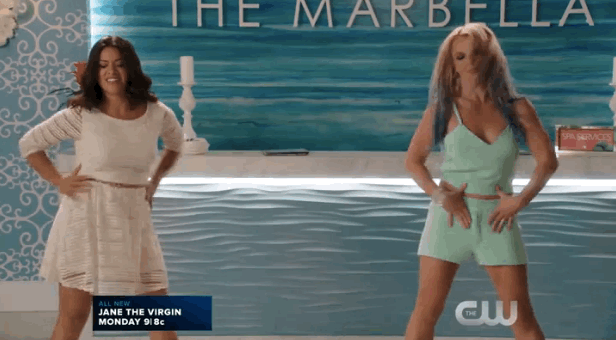 Single moms rule.
I grew up in a one-parent home and was constantly in awe of my mother. My mom is very much a flawed human being and she isn't a perfect parent, but she was perfect to me. I cannot imagine having four kids, two or three jobs, a social life, dogs and cats, and manage to maintain my sanity.
Granted, Jane has a ton of help, and a rich baby daddy, and super supportive parents but I am still loving the single motherhood on television. Currently, Jane and Michael are engaged so she might not be a single mom for much longer, but I still admire the way she tackled new motherhood without a committed relationship.
Culture is important.
Jane the Virgin is still one of the only shows on TV with a primarily Latino cast. Jane the Virgin is not just about casting Latino actors, it is all about a Latino family. The show tackles issues like immigration, citizenship, culture, and heritage on a regular basis. In season 1, one of the main storylines was about Alba's citizenship and her genuine fear of being deported after winding up in the hospital unable to prove her legal status in America. The storyline was done well — it wasn't rushed, it was emotional, and though it ended up all working out for Alba, it was a really eye-opening storyline for people (like myself) who don't have to think about any of my family members being deported.
Back to Jane herself, I have a hard time separating Gina Rodriguez from Jane because of how strong, dedicated, inspiring, and proactive she is. If you have ever heard Rodriguez speak about opportunity and diversity, you will be inspired to make a change. Jane inspires change in those around her all the time, just like Gina.
Chase your dreams.
Jane does it all. She has a child, she has an incredible (though tumultuous) love life, she goes to school, she works, and she wants to write romance novels. This girl is smart, strong, loving, and above all else, self-motivated. Jane never lets anything get in the way of her dreams — something we should all strive to remember in our own lives.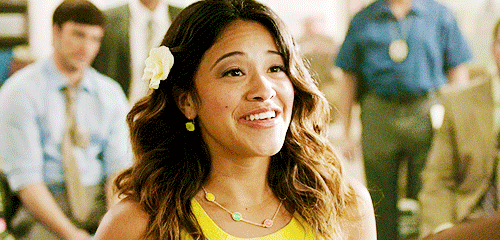 Can you guys tell that I love this show, Jane, and Gina Rodriguez? Good — that's the most important takeaway from all of this.