Everything I need to know, I learned from the 2016 Golden Globes
Alright, you guys. I know some of you are tired and sad and whatever-other-feelings post-holidays in this beginning of a long winter season, but let me tell you something else to maybe make you happy: it is AWARD SEASON. Award season is as big of a deal as any other, well, big-deal-thing to other people. I want to call it my Super Bowl, but I also get excited for the Super Bowl, but I obviously get more excited for award season. This all being said, last night was the 2016 Golden Globes and I am very excited to share what I learned with you.
EINTKILF the 2016 Golden Globes
Kate Winslet can do anything. 
I didn't even see Steve Jobs, but I support Kate Winslet in any and everything she chooses to put her hands on. I honestly was hoping she'd win because I love her the most of all people, but I really didn't expect her to actually win. Clearly, Winslet didn't think she would win either, which is why her win was such a touching surprise–not to mention, it was the first award of that night. THAT AND I have always wanted Kate and Leo to win in the same year, and I feel like there is a good chance of this happening again at the Oscars.
Everyone should be watching Mozart in the Jungle. 
And yes, you are correct in assuming that I have not watched this show yet, however it is next on my list because I have been waiting to have something else to watch. Mozart in the Jungle won Best Comedy and Gael García Benal win Best Comedic Actor. Though I personally was rooting for Aziz Ansari to win for Master of None, I was happy to see Benal win—not to mention Benal had one of the best speeches of the night. We should clearly tune into Mozart in the Jungle.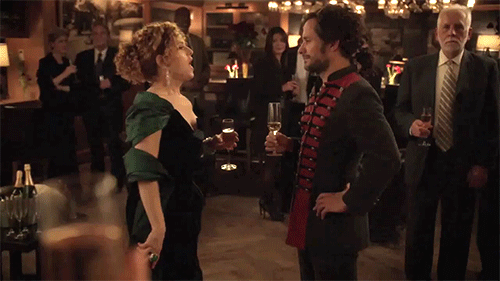 Lady Gaga can do no wrong.
Lady Gaga won Best Actress in a Limited Series or TV Movie last night. Gaga's speech, though scattered, was beautiful. She mentioned that she wanted to be an actress before she was a singer, furthering the belief that anyone can do anything. Gaga has been an incredibly influential singer over the past five or six years, and she also blew us all away in American Horror Story. It was so lovely to see her up on stage, grateful and kind and touching. Gaga reminds me that we are all capable of anything we want to do.
Sylvester Stallone is a boss.
I was not entirely expecting Stallone's name to be called for Creed but then again, I was not surprised when it was. Though I wish he would have thanked a few more people, Stallone's humility was inspiring. Whether or not you grew up with the Rocky films, we all know Stallone as that iconic character. The fact that Stallone can get up on stage (to a standing ovation) and be modest and sweet and inspirational all these years later says something. He does not take for granted what the character of Rocky has given us all.
Tom Hanks is the best.
Tom Hanks had the distinct honor of presenting Denzel Washington with the Cecil B. DeMille Lifetime Achievement Award. For those who don't know, Hanks and Washington starred together in Philadelphia, making the presentation that much more emotional. Even without all of that "incredible actors" history, Hanks is always such a gem and I love seeing him on any stage, at any time, anywhere.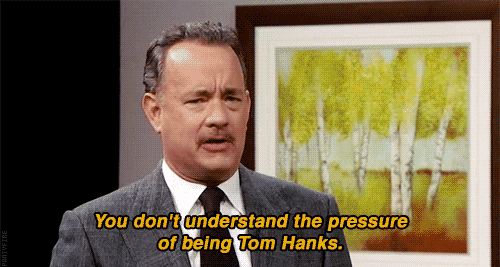 And also, Denzel Washington has done incredible work. Bringing his entire family on stage with him further solidified the fact that Washington is a class act.
Taraji P. Henson can do no wrong.
Another incredible speech of the night came from Miss Taraji P. Henson aka Cookie on Empire. Henson has quite the body of work to her name, but she has truly gained attention over the past year in her role on Empire. Her speech was wonderful, but nothing tops her telling the producers that she has waited 20 years for this award, so they will wait for her speech.
Don't play off Taraji, y'all.
J. Law can never lose.
Jennifer Lawrence won Best Comedic Actress in a Motion Picture (Comedy or Musical) for her role in Joy. This Golden Globe win makes it Lawrence's third win, an incredible feat for a very young person. Lawrence, at 25 years old, has clearly marked her territory in the moviemaking world. I cracked up when she told David O. Russell, her clear director of choice, that she wanted to be buried next to him one day. Lawrence, though she has definitely made remarks that we do not all agree with, is clearly a powerhouse in the industry.
Jim Carrey has still got it.
 Carrey was my legitimate first celebrity crush. I have loved Carrey for my entire life and seeing him up on stage, healthy and well with a giant beard, definitely warms my heart a bit. I am so supportive of Carrey having a comeback or lying low or doing whatever. We all love at least one, but probably more like five, Jim Carrey movies. I am welcoming him back in our lives. Come back, Jim. Come back!
Brie Larson is a precious treasure.
I love Brie Larson and I am not even going to pretend like the rest of you don't also love Brie Larson. Whether you loved her as Jonah Hill's love interest in 21 Jump Street, or as a pop singer a handful of years ago, or as a realistic and relatable and brilliant character in Short Term 12—we all know and love Brie Larson. I read Room in a day and a half (with a full-time job, you guys) and I fell in love with the hopefulness that the story presents to the world. Larson took the role of Ma and transformed her into someone I cared about even more. She won with her head held high and her heart so full. I love Brie Larson, I love her. If you have not seen every single thing she has ever been in, I recommend you start now.
Leonardo DiCaprio is a terrific actor.
Look, if you know me, you know that I love Leonardo DiCaprio. If you do not know me, you probably still know that I love Leonardo DiCaprio. If I died tomorrow, I would go down with the reputation of "Leo's Girl," and that would be absolutely fine to me. As Hugh Glass in The Revenant, DiCaprio fights (literally) his way into the lead actor category. DiCaprio won his Golden Globe last night (his third, for the record), but there is no doubt in my mind that he will win the Oscar as well. Thank GOD. Not only have I been waiting for this since I was a child, but I am so ready to bid those annoying internet memes good-bye. I am sure he agrees with me.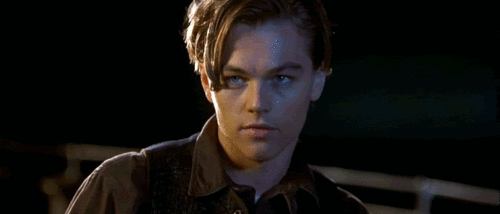 And if you haven't seen The Revenant, please see it with a hand to hold and maybe something to cover your eyes and no popcorn because it's not really a "snack time" movie.
See you guys in a month-ish for the Oscars!