These stunning waffle ice cream cones are taking over Instagram because they're basically edible art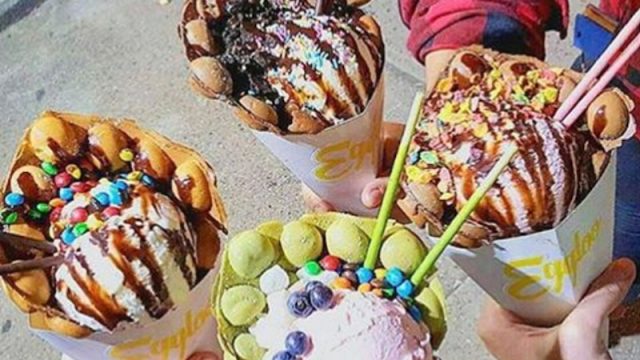 Here's something that's seriously almost too pretty too eat. Never have we seen a more Instagram-worthy treat. Eggloo is serving up egg waffles cones topped with some of the most delicious, and colorful, treats you could ever want. The result of their culinary creation is truly stunning.
Located in Chinatown, New York City, Eggloo, serves up the dessert which comes straight from Hong Kong. You can get the cones in original egg, matcha (green tea), and chocolate, and there's a wide array of different toppings.
The beautiful waffle ice cream cones are taking over Instagram. People are gushing over them, using the hashtags #myeggloo and #eggloo to share their scrumptious dessert. Take a look at just some of the pictures people have snapped of the coveted cones.
The most popular toppings are the Pocky Sticks.
Fruity Pebbles might be the most beautiful (and one of the most common) toppings seen on Instagram.
Sprinkles are always a classic.
This cone is just epic.
Oh, you want a fortune cookie on top of your ice cream cone? No problem.
Are you drooling yet?
For all you Californians, there's a place in Santa Ana called Cauldron Ice Cream that serves up a similar treat.