206 million eggs were recalled because of salmonella, and here's how to know if you're at risk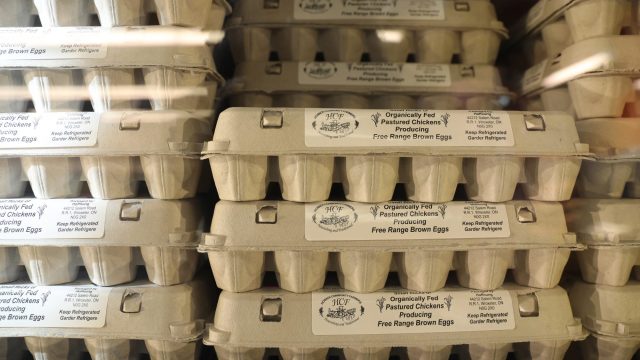 An egg recall issued by the Food and Drug Administration (FDA) on Friday, April 13th means you might want to hold off on your breakfast omelette. The recall is due to a salmonella contamination at a North Carolina farm that resulted in more than 206 million eggs possibly being tainted.
"Consumers with these eggs, shouldn't eat them," FDA Commissioner Scott Gottlieb tweeted on Saturday. "Throw them away or return them to place of purchase for credit or refund."
People in Colorado, Florida, New Jersey, New York, North Carolina, Pennsylvania, South Carolina, Virginia and West Virginia are most likely to be affected. The contamination has been linked to the North Carolina location of Rose Acre Farms, and the recall came after reports of salmonella infections along the East Coast. The eggs affected by the recall are labeled with the number P-1065, with packing dates ranging from 011 to 102.
Rose Acre Farms distributes eggs to brands such as Coburn Farms, Country Daybreak, Food Lion, Glenview, Great Value, Nelms, Sunshine Farms, Waffle House chain and various restaurants along the East Coast. The Great Value brand is sold at Walmart, and Food Lion has recalled eggs from the shelves of 400 stores. All of these brands should be approached with caution. However, all eggs on shelves as of today, April 16th, should be safe to buy and consume.
Salmonella symptoms include nausea and diarrhea, and the Center for Disease Control (CDC) reports that they are approximately 1.2 million cases of salmonella every year resulting in over 450 deaths. If you're unsure about a certain food item it's always best to chuck it. Stay safe, folks.