Eggo just introduced the most over-the-top dessert waffles we've ever seen, and yes, please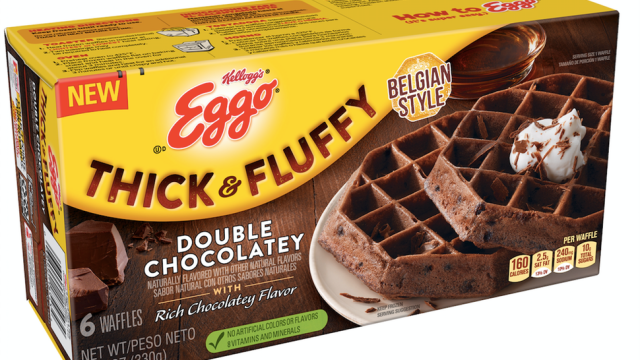 Big fan of waffles and chocolate? Then boy, do we have some news for you. Eggo has just released a new line of Thick & Fluffy Belgium-style waffles (yes, that's the official name — not "Belgian") and among the new flavors is one called Double Chocolate-y that both looks and sounds amazing. Get ready for your breakfast to level up in a serious way, especially if you like eating dessert first.
According to a press release from the company, the new waffles are a little different than the ones you've been popping into the toaster since you were a kid. The Thick & Fluffy waffles are more like what you would get at a restaurant.
The Double Chocolate-y waffles are described as "a rich chocolatey waffle infused with cocoa and scrumptious chocolatey chips." If that doesn't make you want to head to the freezer section of your nearest grocery store, we don't know what will.
There are also three other flavors, in case you're not into that much chocolate first thing in the morning. The original flavor has been given an upgrade with real vanilla extract, while the blueberry promises an "extra, richer blueberry flavor and an added hint of lemon zest," and the cinnamon brown sugar option is supposed to be even more cinnamon-infused than before.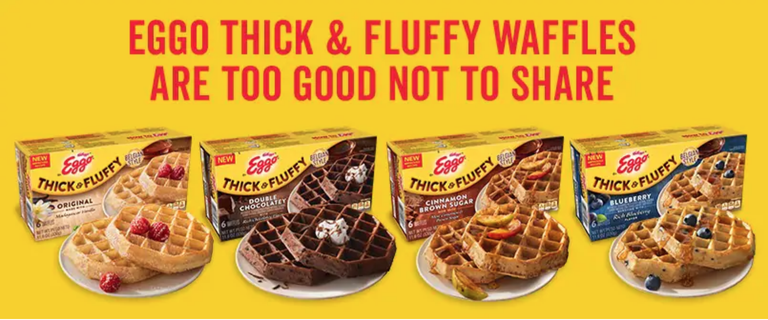 The press release also called the new waffles "shareable," but that's up for debate. Are we really going to want to share a waffle that looks that good? Probs not. Sorry, Eggo.
"The new, fun flavor upgrades to our beloved Eggo Thick & Fluffy Waffles will provide the ultimate deliciously indulgent experience for waffle lovers nationwide," Kellogg's VP of marketing and innovation of frozen foods, Dick Podiak, said. "They are the fluffiest waffles that are just too good not to share."
We have to wonder what Eleven from Stranger Things would think of this. Yeah, she's a fan of the basic Eggo, but we're sure she'd be intrigued by the delectable new flavors. Can we get Millie Bobby Brown to weigh in on this, please?
Whether you're eating them for dessert, for breakfast, or just because you're hungry and want a waffle (we've all been there), these look like an amazing addition to your freezer. BRB, buying all the chocolate Eggos we can find.