Um…Betsy DeVos may be considering a plan that would allow public schools to buy guns with federal money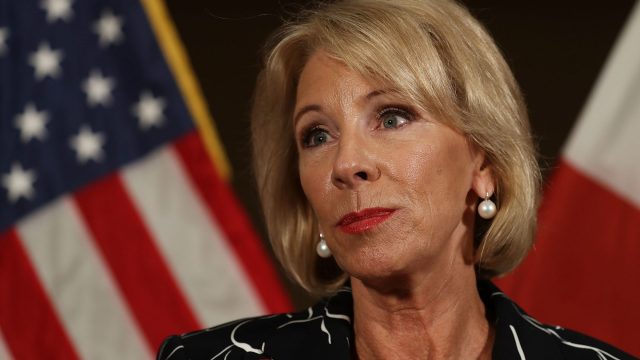 After the tragic mass shootings at Marjory Stoneman Douglas High School and Santa Fe High School earlier this year, a number of Republicans— including President Donald Trump—proposed arming teachers as a solution to gun violence in schools. And now, it seems the idea could become a reality, with Education Secretary Betsy DeVos reportedly considering if states should be able to use federal grants to buy guns for educators. According to The New York Times, the money in question falls under the Student Support and Enrichment Grants.
Randi Weingarten, president of the American Federation of Teachers, condemned DeVos's reported plan in a statement.
"We knew Betsy DeVos would try to do the bidding of the National Rifle Association and the gun manufacturers, but to even consider diverting resources used to support poor kids to flood schools with more guns is beyond the recklessness we believed she was willing to pursue," Weingarten's statement read.
The Trump administration has disputed the Times' account. An unnamed official reportedly told CNN that the Texas state Department of Education asked the federal Department of Education (DOE) if the grant money could be used to buy firearms. The DOE reportedly did not respond to the letter. CNN's source also added that DeVos would ultimately like Congress to decide whether or not the grants could be used to arm teachers.
In a statement issued to both CNN and the Times, DOE spokesperson Liz Hill refused to confirm that DeVos was considering such a policy.
"The department is constantly considering and evaluating policy issues, particularly issues related to school safety," Hill's statement read. "The secretary nor the department issues opinions on hypothetical scenarios."
Regardless of whether or not DeVos is considering this as a legitimate option, it's worth reiterating that giving an untrained (or even a trained) teacher a gun is not a good idea. An FBI study of mass shootings from 2000 to 2013 found that armed civilians stopped only 3.1% of these crisis situations, meaning that the idea of a "good guy with a gun" is more myth than reality.
Let's hope DeVos and the DOE come to the right decision on this one (and if they don't, best believe we'll be contacting our representatives).