Edible Oreo cookie dough is here to fill the holes in your heart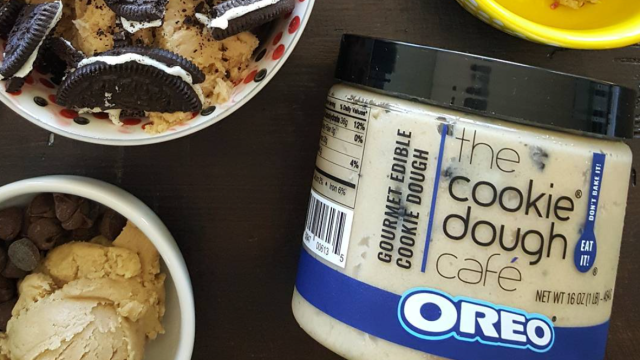 In these overwhelmingly confusing, stressful times, we are completely in the mindset of #treatyoself. Like, any chance you get, go for it. And while we'd normally say screw it, eat that cookie dough from the tube, we have a better, more adult piece of advice. Don't eat just any cookie dough — eat this edible Oreo cookie dough that you're not even meant to bake.
The Cookie Dough Café's Oreo dough is your saving grace from literally anything that will make you feel blue. So, you can rest easy knowing your body won't get sick from eating it.
The Cookie Dough Café's cookies and cream flavor features real Oreo pieces, and is certified Kosher, so do you really *not* have an excuse to buy it?
Although it's available in Mariano's in Chicago, you can order it online, too. The Cookie Dough Café even ships their dough across the country, so you can get your fix without having to leave your house. And while $22 for two pints may seem steep, we just want to remind you about the deliciousness that you're ordering.
Even if Oreo isn't your thing, you can still enjoy some good old cookie dough in flavors like chocolate chip or monster, which is peanut butter and oats with M&Ms and chocolate chips. Did we already mention that this is cookie dough you eat and don't bake? Where was this when we were kids?!
We can't wait to get our hands (and spoons and mouths) on this.