Eddie Redmayne taught Jimmy Fallon his very best "Fantastic Beasts" mating dance, and ye gods it was amazing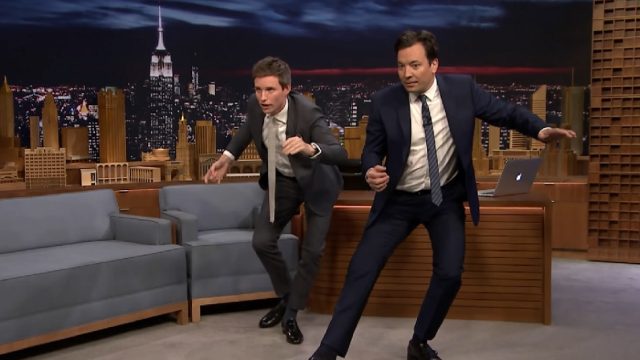 Are you as excited about Fantastic Beasts and Where to Find Them as we are? Good. To help promote the film, which will be out in theaters on November 18th, The Tonight Show featured a segment where actor Eddie Redmayne taught Jimmy Fallon a "Fantastic Beasts" dance. Adding more sensuality to it, we should probably include that it was a mating dance.
Fallon mentioned the mating dance, which is part of the film, to a slightly embarrassed Redmayne. (We're guessing it might not have been his favorite scene to shoot.)
"I'm trying to work out from his eyes, judgment," Redmayne joked to the audience.
Of course, Fallon was more intrigued than anything. After praising the scriptwriting of J.K. Rowling, Redmayne taught him a few moves.
https://www.youtube.com/watch?v=faXUbSSHeyY?feature=oembed
Both guys definitely have a bit more grace than we originally thought!
While it's totally silly, we just love the fact that Redmayne put so much feeling (and research!) into it while on set. That's just one of the many signs that this movie is going to be pretty fantastic.
While Redmayne started his acting career way back in 1998, it's truly blossomed these past few years. Not only is he such a big part of the Fantastic Beasts franchise (which is a wonderful introduction into the Harry Potter world) but he has a few more projects coming up, including a voice-over in the upcoming Nick Park film "Early Man". (If you're familiar with Wallace and Gromit and Chicken Run, you're familiar with the talented Nick Park!)
We seriously can't wait until November 18th to see Redmayne's mating dance in action!