Ed Sheeran has just released a tender love song, and we can't stop swooning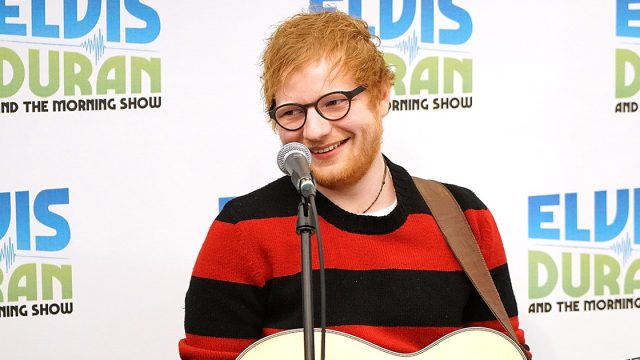 Every now and then you need to listen to a good love song and let the smooth music melt you like a candy bar. That's why we can't get enough of Ed Sheeran's new tender love song, "How Would You Feel (Paean)."
We've been loving what Ed Sheeran has been up to recently. When he's not performing with an actual Spice Girl or hosting amazing celebrity parties with specific rules, the British singer has opened up about how he's not really into unsolicited naked pictures, and has also spoken about his past dating mishaps, saying that he's finally found the time to properly fall in love with his current partner Cherry Seaborn. Awww.
In fact, the singer's latest song, "How Would You Feel (Paean)," is actually all about his relationship, and it's making us swoon.
As Sheeran notes, the track isn't a single, but rather a taster from his album. Speaking to Zane Lowe earlier this year, the singer said that his relationship with Seaborn was the catalyst for him taking a year out of the spotlight.
"We were basically like, 'Let's both quit our jobs and let's have a year off forming a tight bond and a relationship.' So we went traveling and spent every day for a year together," he said. "We're very, very strong. I've never been happier. I've never been more comfortable. I've never been more inspired. I sort of feel like everything's falling into place because I've given it time."
In fact, Sheeran even admitted that he'd actually forgotten about his new song, "How Would You Feel (Paean)," until his partner told him it was her favorite song of his.
"I was like, this is the one time I could release a song and it could be played on the radio when it's five minutes. I think when the album is out, people will just go for the singles. So the song isn't a single, but I want to put it out because I want loads of people to hear it," he said. "I said to my girlfriend, 'What's your favorite song on the album?' and she said, 'You forgot this existed and I've got it in my email because I'm the only one you sent it to.'"
Listen to "How Would You Feel (Paean)" below.
SWOON!
Ed Sheeran, who also celebrates his birthday today (February 17th), shared an adorable and spine tingling live performance of the song, too, and it's just wonderful.
https://www.youtube.com/watch?v=wY473jAptyw?feature=oembed
Earlier this year, Ed Sheeran announced his third album Divide (styled as ÷), and shared the double A-Side singles "Shape Of You" and "Castle On The Hill." The album is set for release on March 3rd, and we can't wait!