Ed Sheeran just confirmed the craziest (and most badass) rumor about him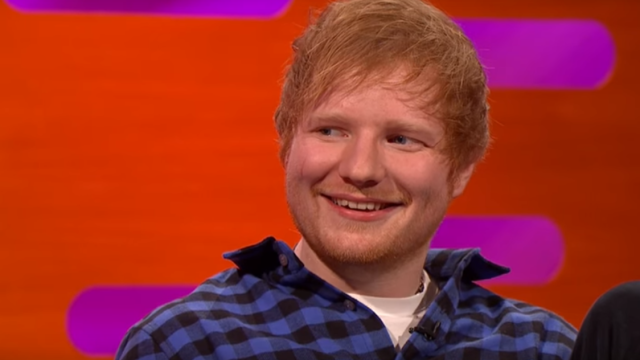 Back in November, there was a wild rumor going around about Ed Sheeran getting his face sliced by a member of the royal family as she jokingly knighted James Blunt. As it turns out, it sounds like this rumor might be true? During a stop on The Graham Norton Show, Ed was asked about his facial scar and what had caused it.
During his interview, he joked that he "couldn't talk about" the incident without getting in trouble with the royal family. "I don't know what will happen if I do!"
While Ed initially claimed that he got it from a fall, people speculated that it happened at a party with Princess Beatrice…as in, of the British royal family. That Princess Beatrice.
According to People, Princess Beatrice allegedly accidentally slashed Ed while pretending to knight James Blunt. She didn't realize how close he was standing, which led to him getting nicked.
"For two weeks after, I had a huge gash on my face and would tell people I fell and then suddenly, the story came out, he said. Ed said that when he told his dad this version of the story, he didn't believe him. "[He] said, 'No, what really happened?'"
Though it could've been much worse than it really was, he seems to be taking the incident in stride, and has joked about the incident at an event!
https://www.youtube.com/watch?v=d02SLnZVmvw?feature=oembed
While this rumor was probably one of the more surreal news items of 2016, it's kind of crazy (and badass!) that it ended up being true. And we've all been Princess Beatrice at some point, so we wouldn't hold that one against her. We're just glad that all parties involved are mostly unscathed!